Gold mirror bar hire for a private party in Godalming, Surrey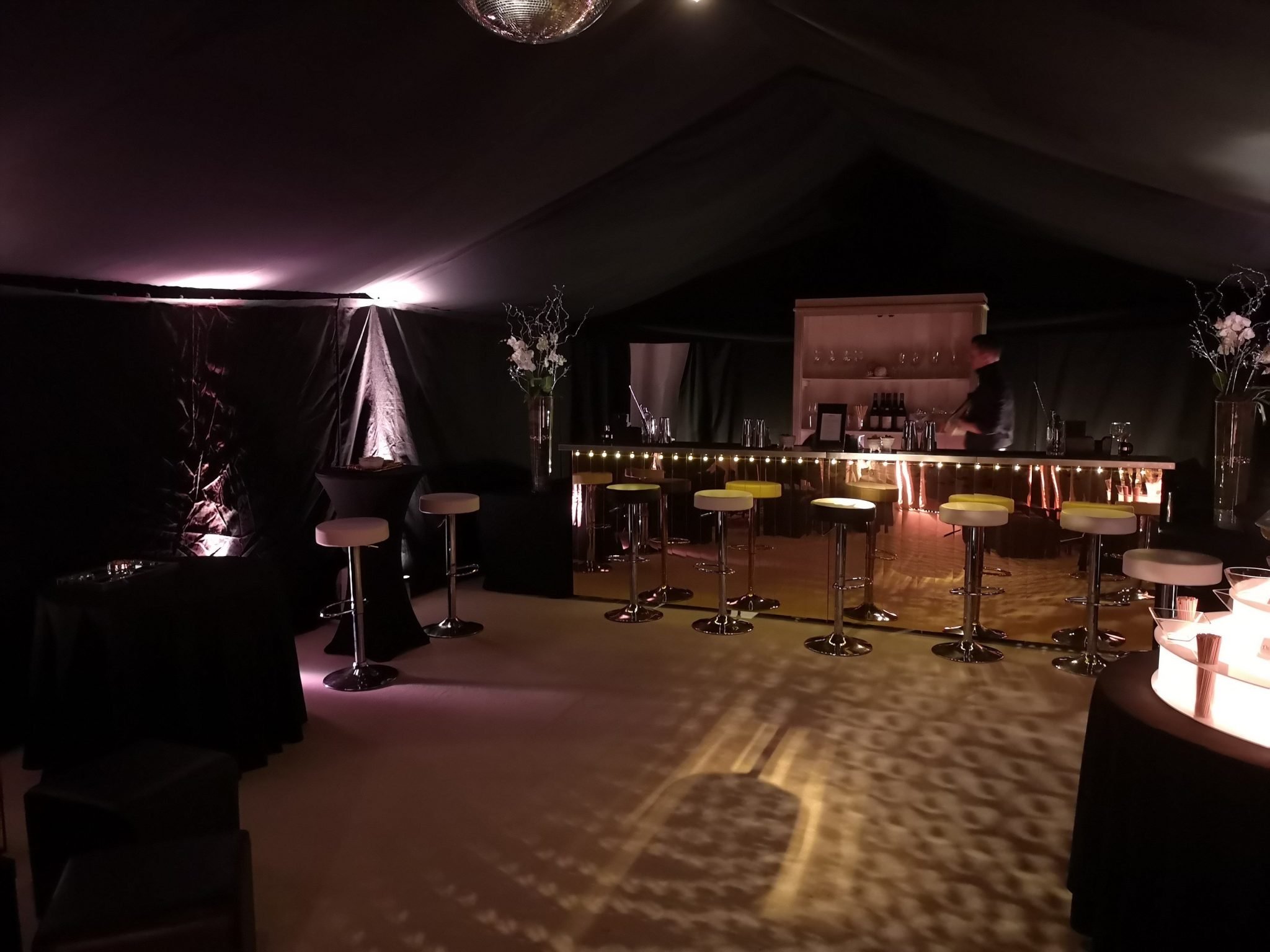 Godalming in Surrey may be famous for being the first place to have public electric street lights in 1881, however, it was our gold mirror bar hire that was lighting up this small market town recently. Hired as part of our full bar support service, our gold mirror mobile bar was constructed to a 4-meter length to ensure plenty of space for up to 80 guests as they approached the bar for drinks at different times throughout the evening event.
All of our mobile bars, including the gold mirror bar, are brought to the location packed away in flight cases. These don't just act to keep our bars and fascias in tip-top condition but also make transporting even the largest of bars very easy. Slim doorways or tight staircases are not a problem so whether you are planning an event in an auditorium or in a hall built in the 17th century, the chances are we will be able to get our mobile bar in and set up.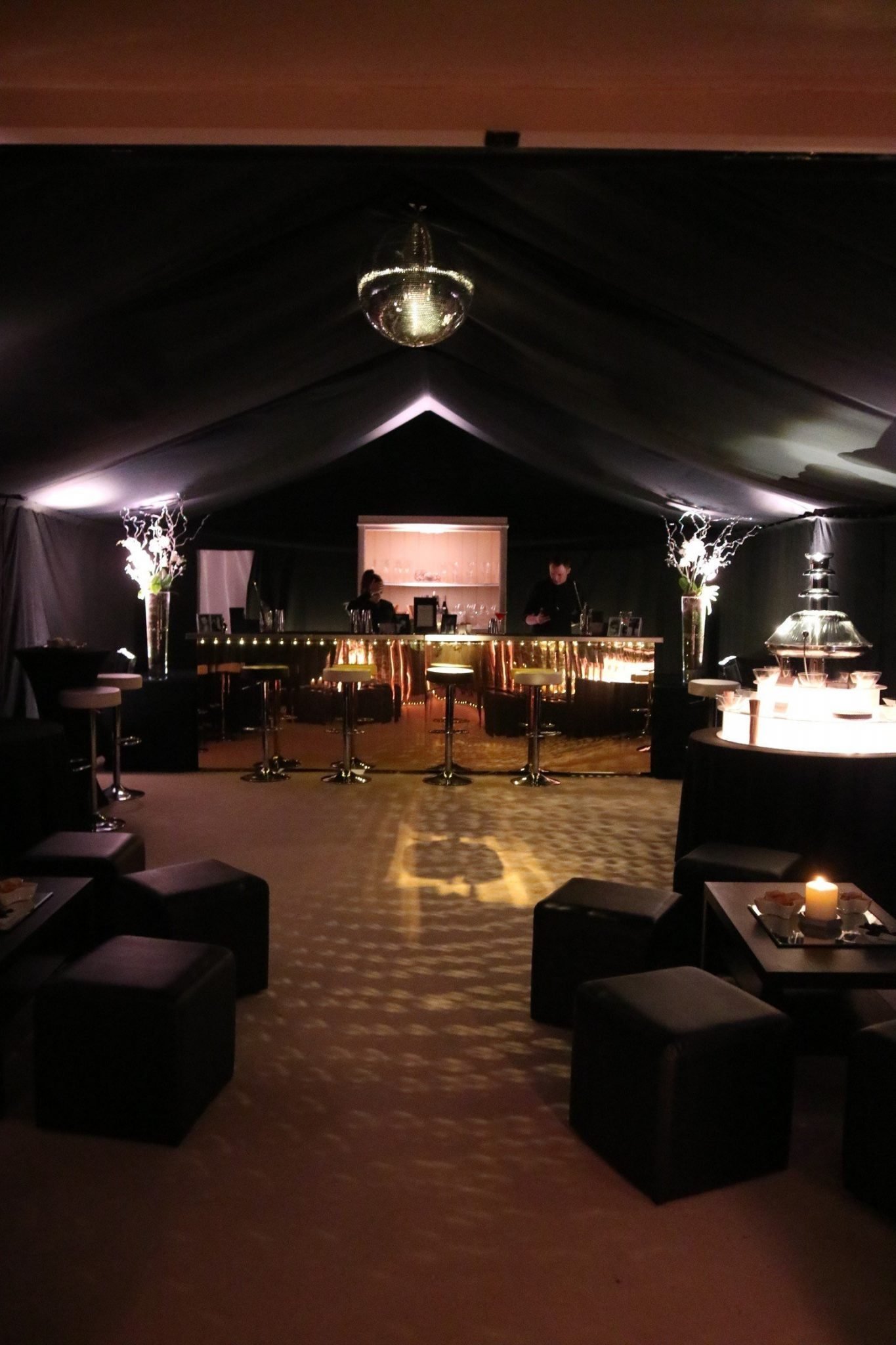 This party at a private residence in Godalming took advantage of our mobile bar hire but also our full bar support service. This entailed the provision of all stock for making a range of soft drinks and cocktails, barware, glassware, and two of our professional flair bartenders. We have many options when it comes to drinks, ranging from a fully bespoke cocktail menu to a selection of classic cocktails, a completely non-alcoholic offering or something in between! For this event, the client opted for a selection of classic cocktails, including a mojito, cosmopolitan, a raspberry & candy floss champagne cocktail and an espresso martini. Whatever drinks you decide on, a drinks menu will be prepared beforehand that will sit on the front of the bar and allowing your guests to make a quick and easy selection.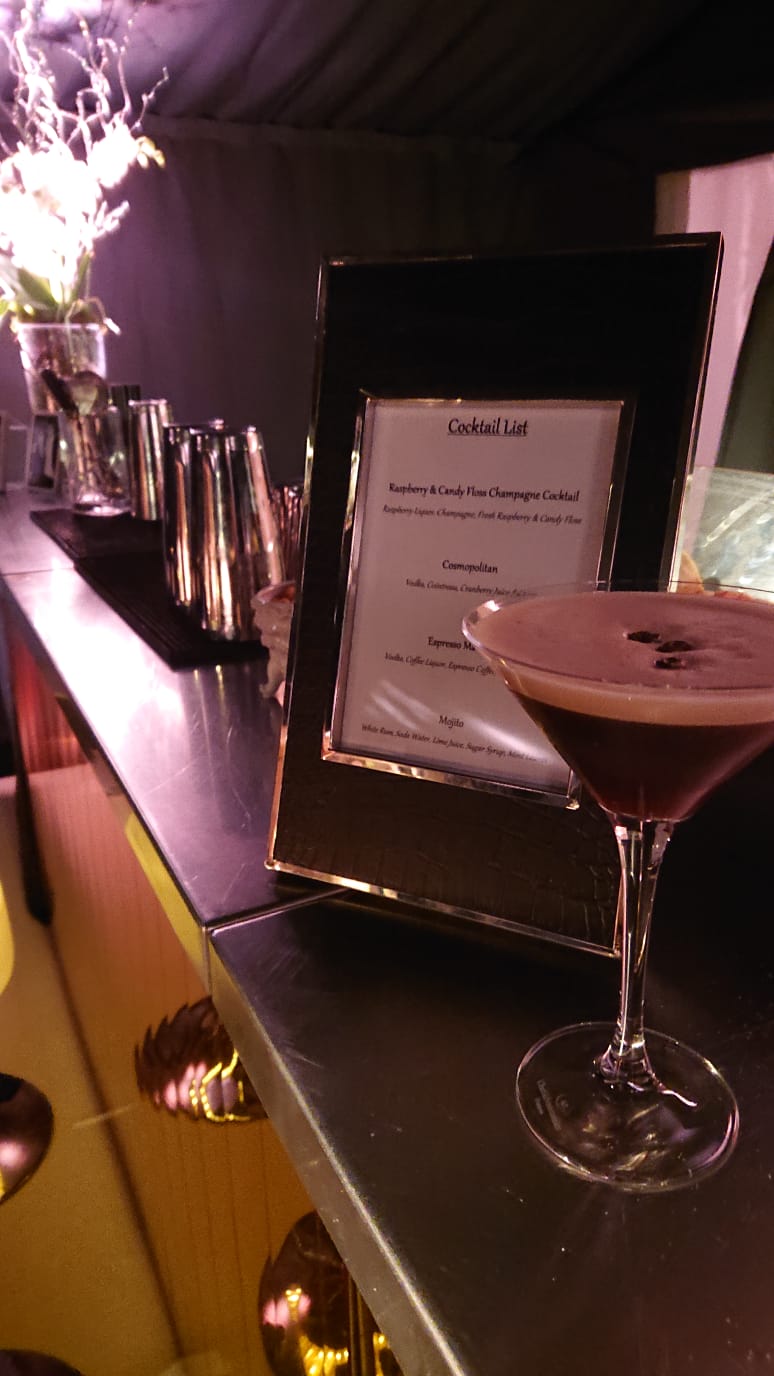 Opting for flair bartenders to work behind your mobile bar is a great way to make sure your event is memorable, as they can be a great talking point. We guarantee there are many things our flair bartenders can do whilst preparing your drink that you probably haven't seen before! And don't worry if you are thinking the service will be slow, our flair bartenders use what is known as working flair, which is a series of moves and manipulations designed to add flair to the drink-making process – not to delay it. Even so, if the bar is particularly busy and there are a lot of people waiting to be served, our bartenders are first and foremost professionals and will switch to providing a more expedited service to ensure guests get their drinks quickly.
Our gold mirror mobile bar is part of our Classic Range of mobile bars. These make use of tactile materials for the fascia of the mobile bar such as gold mirrored panels, brick, padded leather, or craft wood. If you are looking for something a bit more personalised then our HD Range can use any high definition image and recreate it on the fascia. These bars also come with white LED backlights so your image, logo, brand or personalised message stands-out no matter what.
Are you interested in our gold mirror bar hire, gold mirror mobile bar, bartender hire, cocktail creation or anything else? Then please get in contact here.