Semi-circle mobile bar hire for a private party at Spring Studios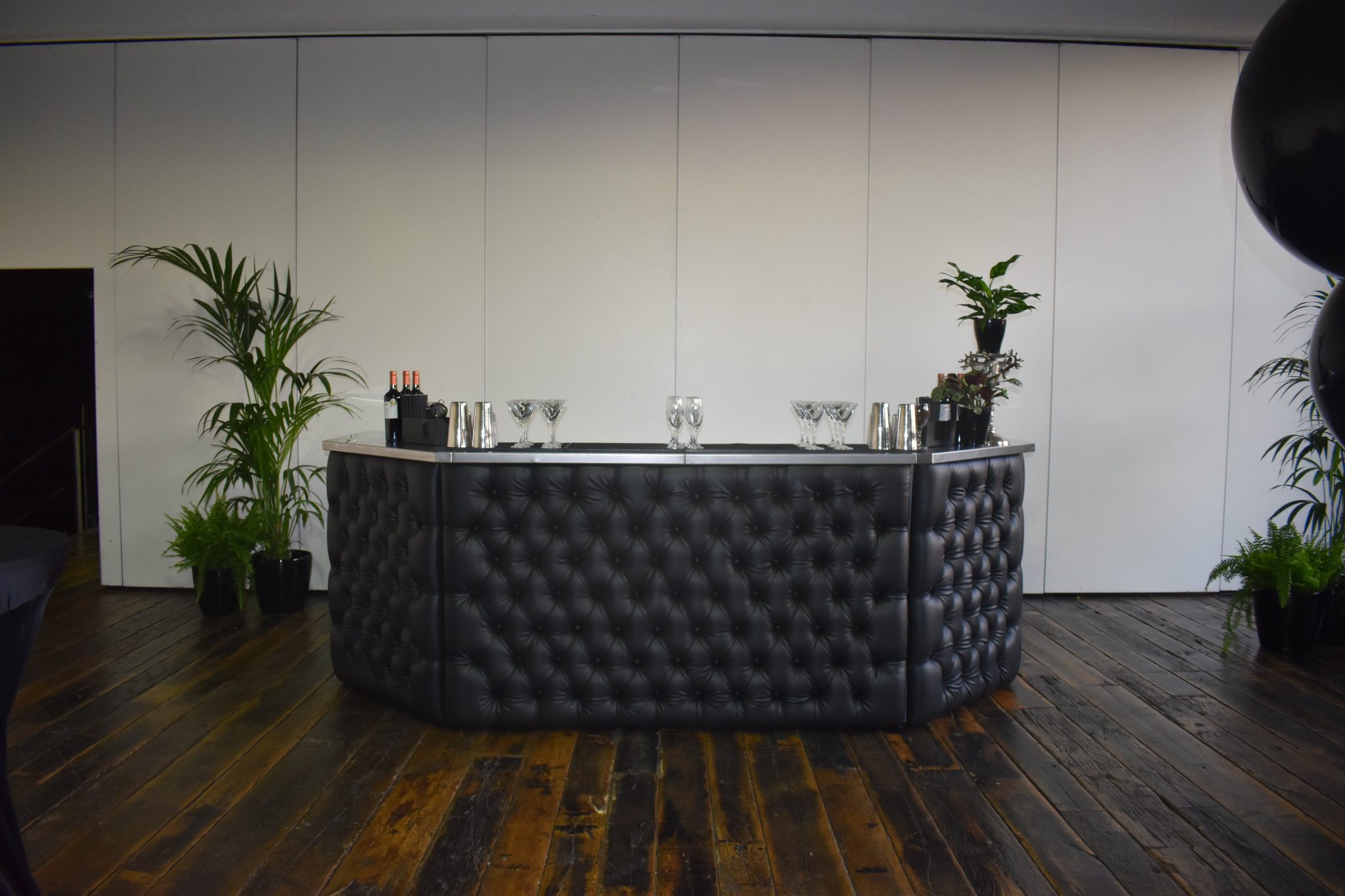 The iconic Spring Studios in London are used to playing host to photoshoots and events for the likes of Tom Ford, Victoria Beckham Beauty and Marc Jacobs, however, on this occasion, we had the pleasure of filling the space with our semi-circle mobile bar hire. The event was a private birthday party for around 100 guests and as well as a semi-circular mobile bar we also provided professional mixologists, a range of classic cocktails and more.
Here at Ace Bar Events, we understand the importance of matching the mobile bar to its surroundings. In fact, if possible, the aim should be to put a bar in that could be a permanent fixture. With this semi-circle mobile bar hire for Spring Studios it was important to choose materials that won't clash with the style of the room, i.e. no wooden bar top or fascia. The leather chesterfield bar with stainless steel bartop, arranged as a semi-circle mobile bar, proved the perfect choice with elements of stainless steel and black leather appearing on the other furniture in the studio.
We have many different choices when it comes to mobile bars, the most popular of which you can explore on the Ace Bar Configurator – our online bar building tool! This bar is part of our Classic Range, which feature tactile fascias made from materials such as craft wood, padded leather or mirrored panels. The HD Range make use of high definition graphic panels on the fascia. The panels can be printed to display any HD image or logo of your choice, with LED backlighting. You can even take this one step further and opt for our HD freestanding backdrops as well if you prefer. The LED Range, on the other hand, makes use of sophisticated LED technology to display a huge range of colours on the fascia of the mobile bar, these can be customised or change in time to the music.
As the mobile bars fully break down into flight cases, access is rarely an issue with venues. As a result, we can arrange the mobile bar in any shape such as this semi-circular mobile bar, a straight bar, or an island bar. Each part of the mobile bar slots into each other allowing for bars of almost any shape, style, and size to be constructed. In addition to our semi-circle mobile bar hire, we also provided two of our professional mixologists who were preparing a range of classic cocktails picked by the client, as well as all of the stock, glassware and barware.
If you are interested in our semi-circle mobile bar hire, a different semi-circular mobile bar, bartender hire, cocktail creations or anything else – then you can get in contact here.