There's always a spike in live and virtual whisky tasting experiences around the end of July. Why's that? Forbes's Hudson Lindenberger has the answer. "Every year the world turns its eyes towards Scotland on July 27. That's when people pour themselves a dram of their favorite Scotch and celebrate National Scotch Day."
The success of these live or virtual whisky tasting experiences hinges upon one crucial factor. The whisky MUST be Caledonian.
"To be called a Scotch, it must be produced in Scotland, made from malted barley, wheat, and rye, aged in oak barrels for at least three years, and be at least 40% alcohol by volume", Lindenberger explains. "One other requirement is that it is called whisky, not and more common spelling whiskey".
(You'll see the insertion of the letter E for American and Irish whiskies, the latter being the other hard puncher in the Celtic whisk(e)y stakes.)
With that not small matter cleared up, let's compare and contrast live and virtual whisky tasting experiences. It will help you decide which high road you fancy taking this year.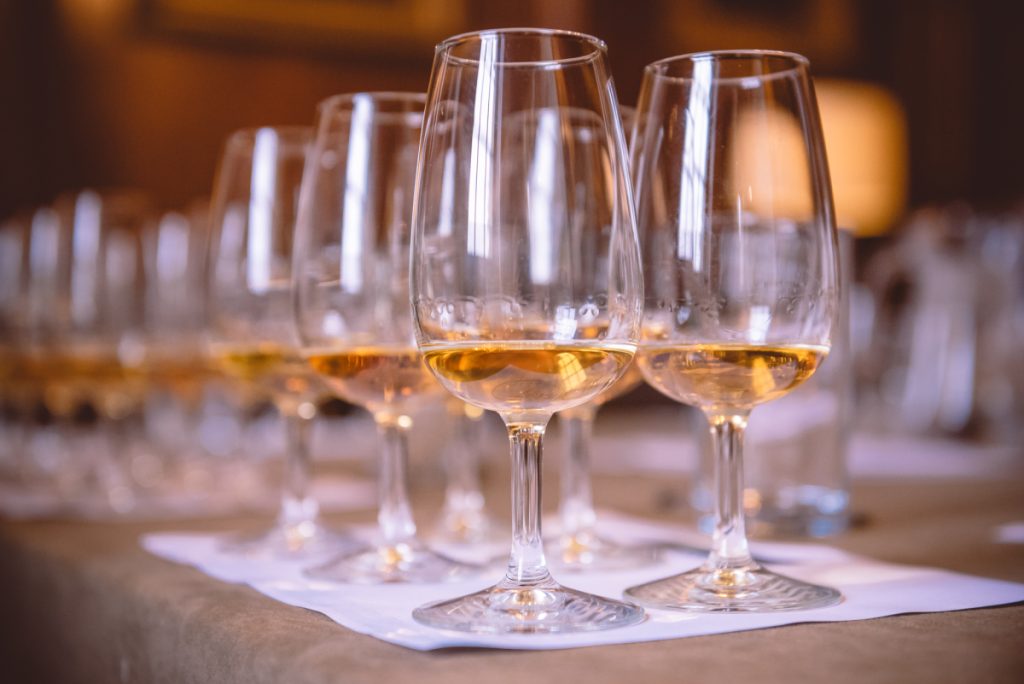 Live and Virtual Whisky Tasting Experiences: Two Different but Equally Enriching Adventures
Live Whisky Tasting Experiences – Imagine you and up to 60 of your colleagues, clients or clans(wo)men sipping an expertly hand-picked selection of Scotch. Better still, imagine the proceedings being overseen by a professional yet personable host who has whisky in his DNA. You'll be regaled with the weird and wonderful stories behind each wee dram. And you'll learn a thing or two about how each Scotch is crafted and what to pair them with.
Virtual Whisky Tasting Experiences – It all starts with a special delivery to your door, (and the doors of your cohorts). Upon opening your boxes, you'll discover 5 miniature whisky masterpieces accompanied by 5 tasty titbits. Then, it's simply a matter of logging in to your computer, phone or tablet. Your Master of Ceremonies will be awaiting your arrival. Virtual whisky tasting experiences share exactly the same premise at their live counterparts. But the esteemed company is virtual rather than together in-person.
At Ace Bar Events, we're renowned for the market-leading quality of our virtual whisky tasting experiences. Is your whistle whetted? Get in touch. We're ready for the Scotch soiree of the century if you are, och, aye!
Source
Celebrate National Scotch Day 2021 With These Fine Whiskies, Hudson Lindenberger, Forbes