Venetian themed mobile bar hire for a masquerade ball
We had the pleasure of returning to the Vale Resort in South Wales recently, supporting the annual Flogas event with our Venetian themed mobile bar hire, a bespoke cocktail menu and more. Last year's event was a roaring twenties, Gatsby themed party, this year, however, Flogas decided on a Venetian theme – otherwise known as a masquerade ball.
Nestled within a 650-acre private estate in the beautiful South Wales countryside, the Vale Resort is far more than your average luxury hotel and the perfect setting for a Venetian themed mobile bar and event. Located in the Vale of Glamorgan in South Wales, it might not be Venice, yet this modern interpretation was just what the doctor ordered. Our high definition graphics back panels in addition to our mirrored mobile bar helped set a glamorous Venetian scene.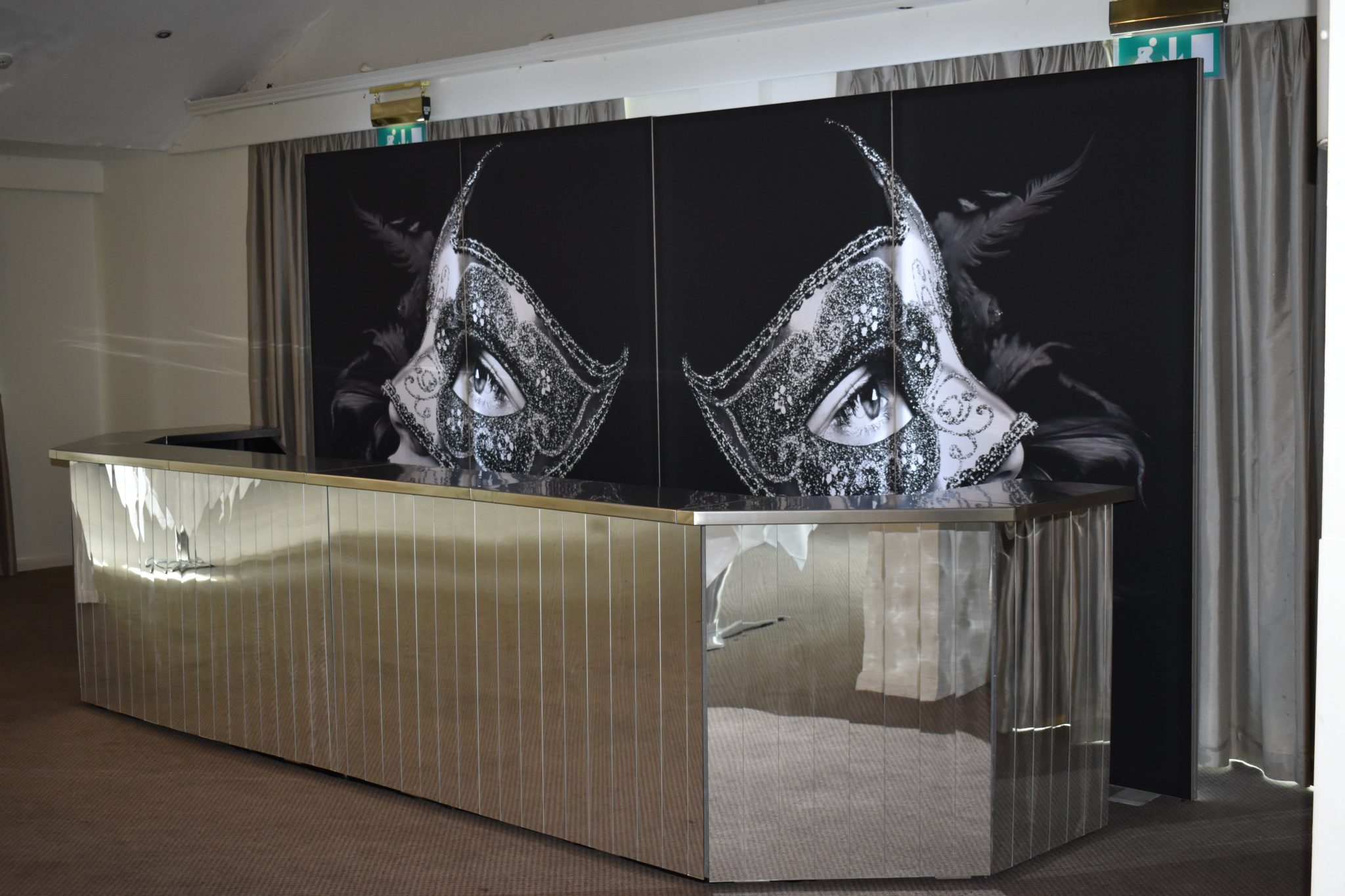 Famously popular in the 16th century in Italy, particularly the Republic of Venice, masquerade balls and Venetian balls are often recognised as one in the same – an exclusive and prestigious event, where the guests are expected to attend either in full costume or at least donning a masquerade mask. Venetian balls have been portrayed in art and theatre across the ages, stories have been told of all sorts of mysterious things happening at these events from dancers catching fire, to royal assassinations! Luckily, our event in The Vale featured no such drama! Only great drinks, good masks and summer vibes.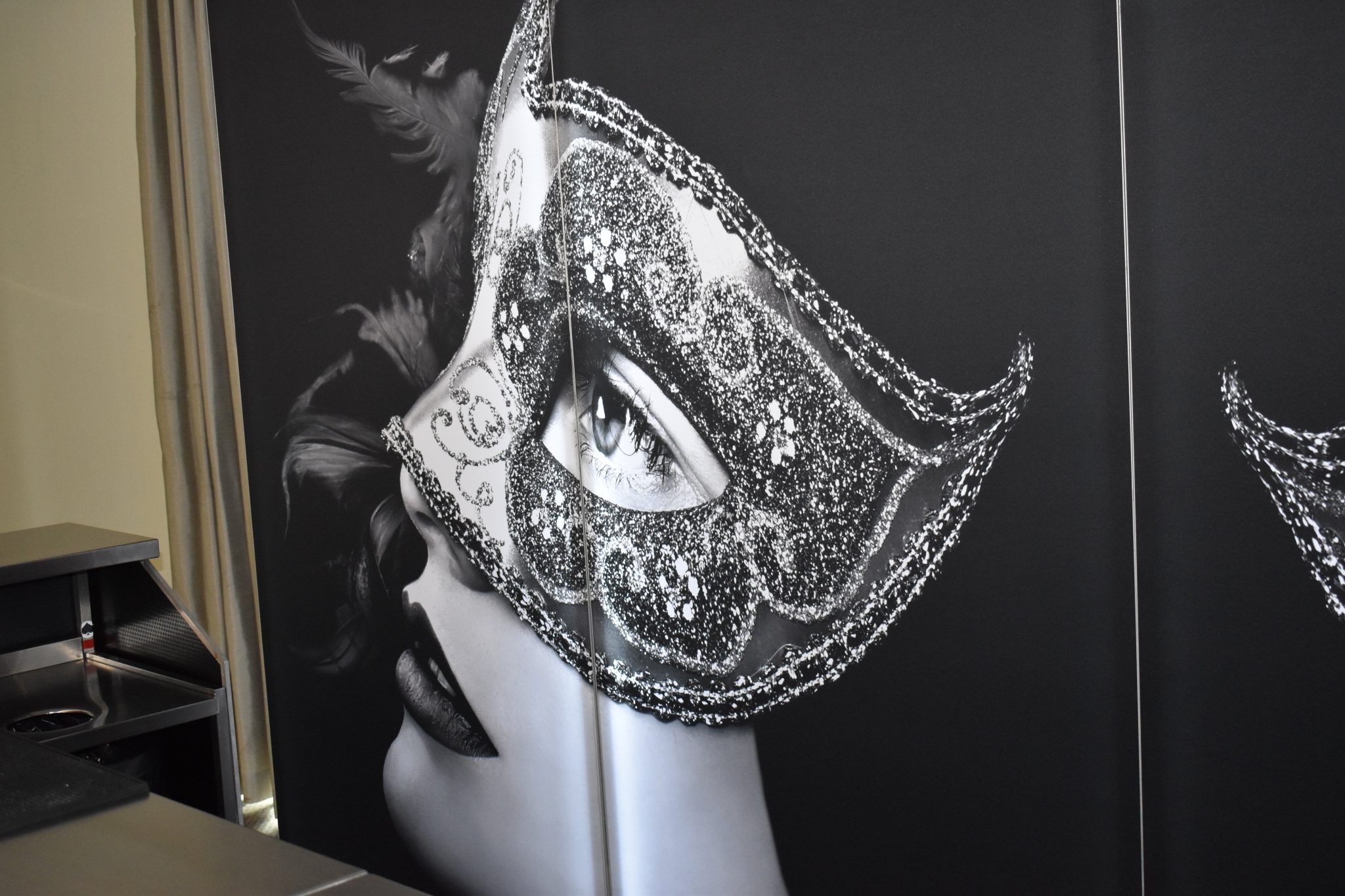 Our Venetian themed mobile bar hire is part of our Classic Range. The Classic Range of mobile bar features natural fascias, such as craft wood and mirrored panels. We combined this 5-meter bar with four of our graphic back panels from the HD Range. Conversely, our HD range of mobile bars can be customised with a high definition image or brand logo of your choice. If combined with our HD back panels it is possible to create an exceptional looking mobile bar. Both the mobile bars and the back panels in the HD range also have the option of being backlit by inbuilt LED lights.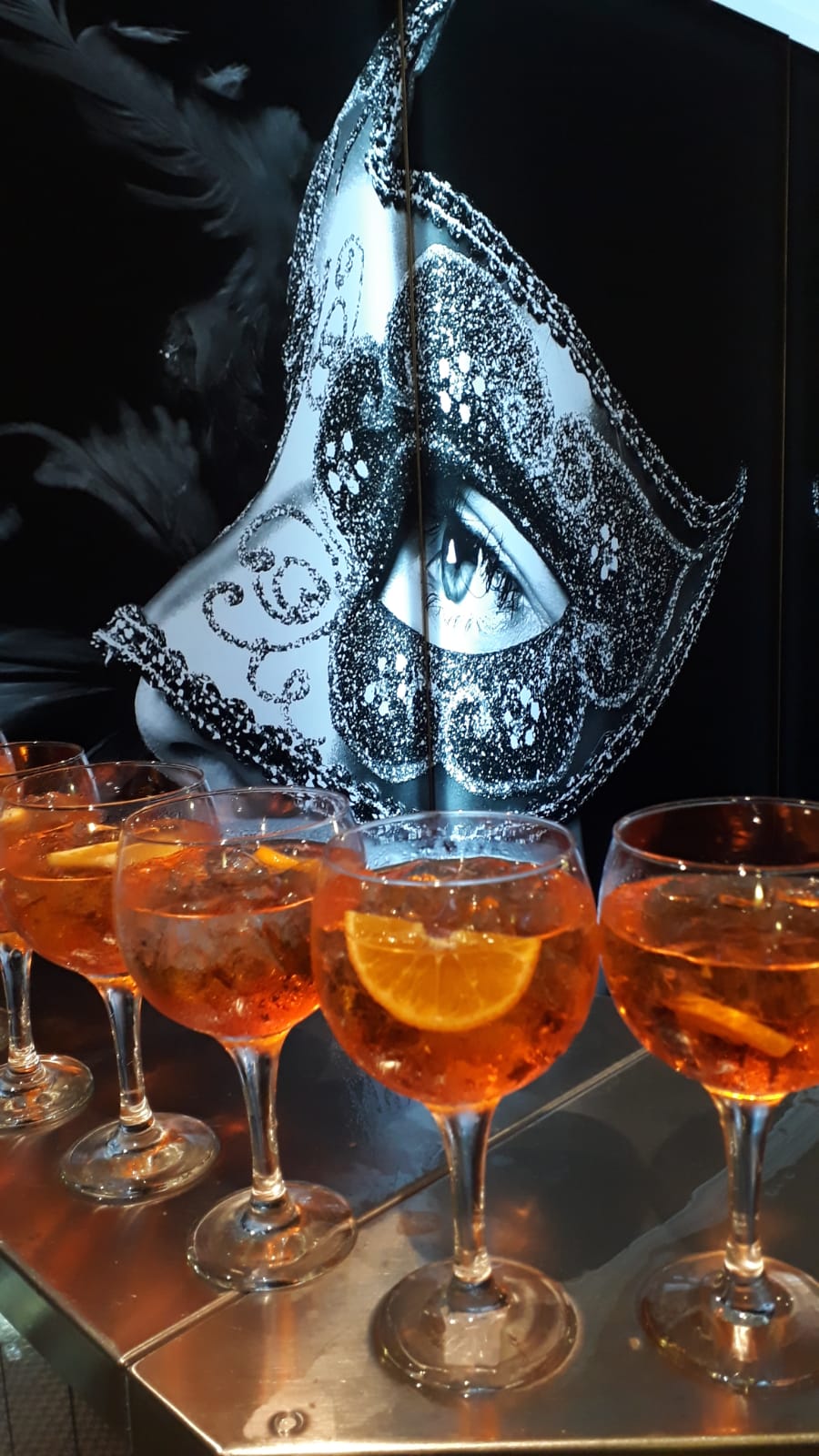 No masquerade ball is complete without suitably themed drinks and professional bartenders to serve them. In addition to our Venetian themed mobile bar, we also provided two of our professional flair bartenders, which do a great job of preparing drinks and entertaining guests. Although the hotel provided the glassware and the stock to be used to make the drinks, the client requested that we design a bespoke cocktail menu taking into account the Venetian theme. Naturally, we decided on the classically Italian Aperol Spritz, as well as a Yellow Belly – this is a cocktail featuring citrus vodka, Italian Limoncello, lemon juice, sugar syrup and a lemon twist.
If you are interested in our Venetian themed mobile bar hire for a masquerade ball, or another event, our flair bartenders, or anything else – then you can get in contact with us here.
—