A gold mobile bar and golden event backdrops for this Glitz and Spritz event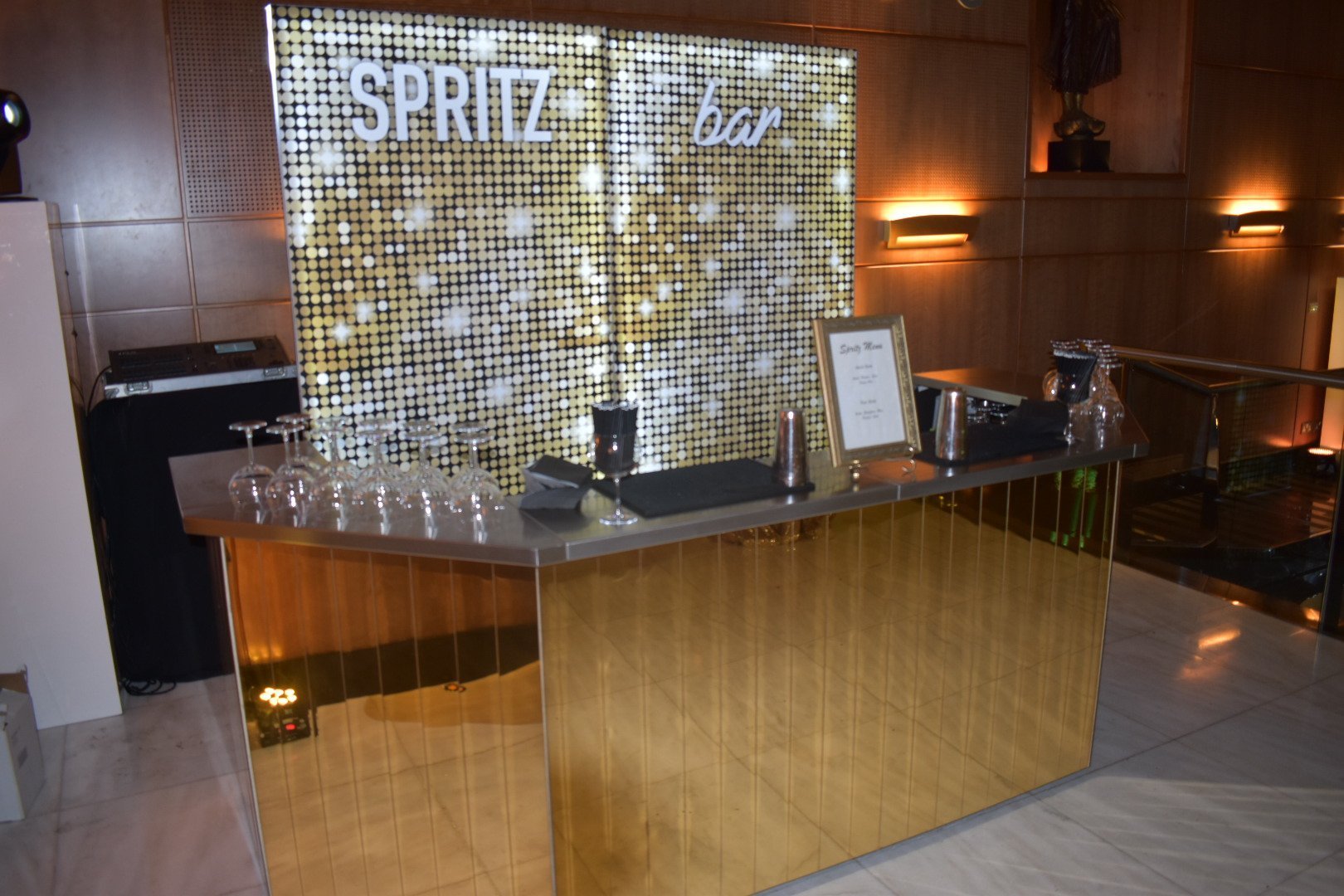 Working for Event Designers LTD, we had the pleasure of supporting an annual conference at the Raddison Blu Edwardian in Heathrow, London, with our gold mobile bar and shimmer wall for hire for a glitz and spritz themed night.
An annual conference, which was for just over 350 people, provided an evening of food, drinks and activities for the entire management from across the UK. Held in one of the wonderful rooms of the Raddison Blue Edwardian, the whole event was designed completely by Event Designers Ltd and incorporated our gold bar and backdrop within the design.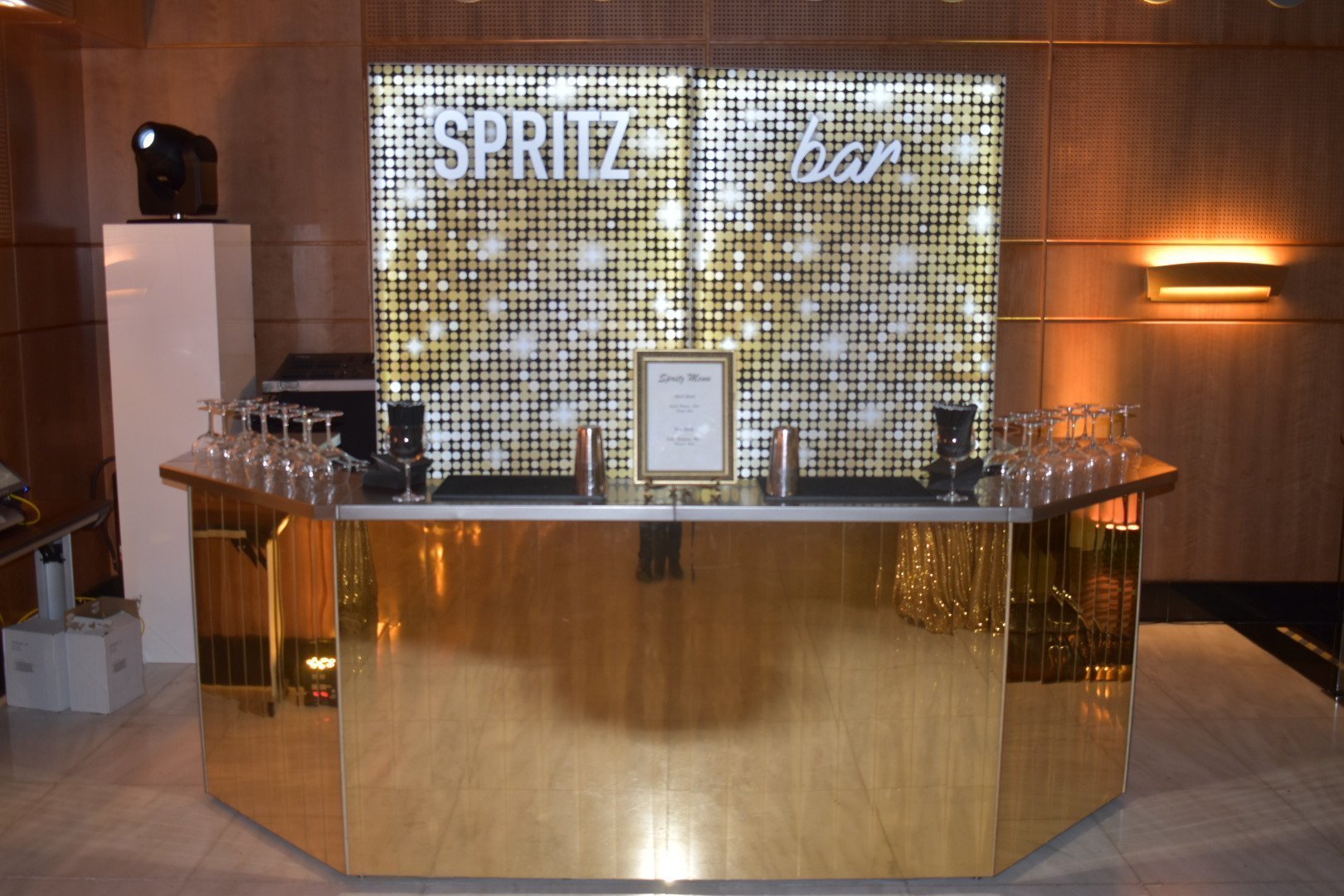 The theme for the event was Glitz and Spritz. This, of course, meant plenty of glitter and extravagance alongside a tasty selection of spritzes! Or in this case a classic and a modern spritz. In addition to our gold mobile bar, we also put together the bespoke gold event backdrops, using our HD panels. Our HD panels quite often sit behind the bar, however, they have and can be used in your event wherever you can imagine and have in-built LED backlighting! We have had them used to form the illusion of a fake brick wall at an exhibition, or even as a great way to advertise your company.
In addition to our gold mobile bar and golden event backdrops, we also provided two of our professional flair bartenders for this Glitz and Spritz event. When it comes to the drinks, flair bartenders are a great way to add a little something extra to your event. They are a good source of entertainment on the night and can provide a great talking point for after the event. Professional bartenders, any of our guys and girls can serve whatever range of cocktails or drinks the heart desires. For this event, it was all about the spritzes, with a classic Aperol Spritz on offer, alongside a Hugo Spritz (consisting of vodka, elderflower, mint, prosecco and soda) – tell us that doesn't sound good!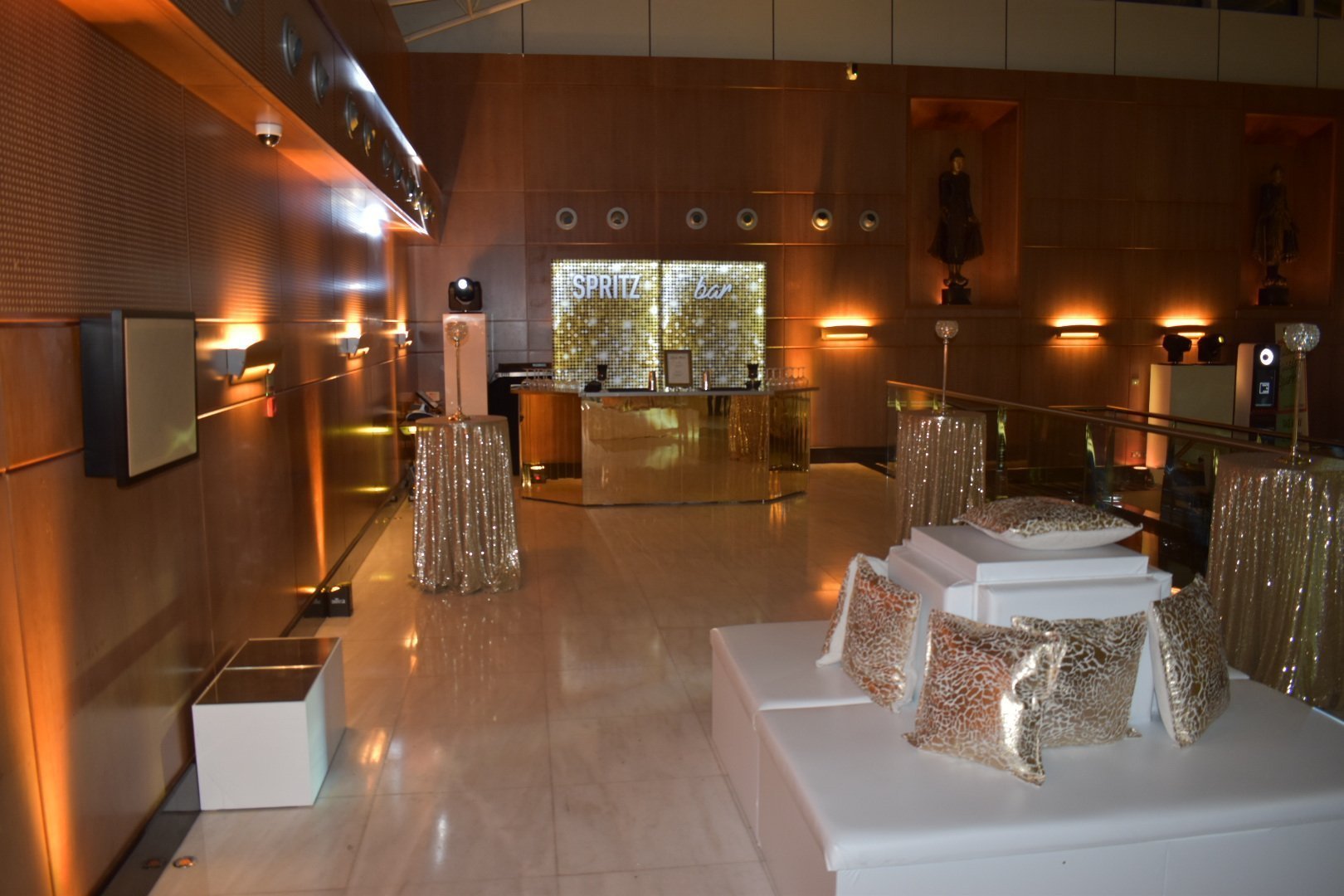 Any of our mobile bars can be set up in a range of shapes and formations, from corners to islands. The gold mobile bar is part of our Classic Range, which means the fascia is made from a tactile material – in this case, gold mirrored panels. You can also choose from our HD Range or the LED Range. The HD Range makes use of clever LED backlighting and high definition imagery, printed on to the fascia, and the backdrops if required; whereas the LED Range uses LED panels for the fascia, each of which can be used to display any colour or change colour in time to music.
To discover more about our mobile bar range, our gold mobile bar, golden event backdrops, shimmer wall for hire or anything else, then you can get in contact here.