Nailing professional bar hire services is your secret sauce for conferences and events, whether you're flashing your business cards at an exhibition, or strutting your stuff at a glamorous gala. And with conference season upon us again, it's time to bring out the big guns.
That doesn't mean doubling down on snazzy PowerPoint presentations and snappy sales pitches. Instead, grab your cocktail shaker and let's explore why getting your bar game on point is an absolute must.
Keeping up Appearances
You're working the room, sealing deals, and rubbing elbows with industry big shots. But your bar setup is about as exciting as a cup of tepid water. Think of it like this… You wouldn't wear flip-flops to a black-tie affair, would you? Similarly, your approach to professional bar hire services should be no different. At the end of the day, cutting corners leaves a bad taste in your guests' mouths.
Professional Bar Hire Services that Match Your Ambitions
This isn't amateur hour. It's high-stakes business mingling, where partnering up with a top-notch event bar partner comes into play. These pros are like the Dragons Den of event bars, armed with a dazzling range of design and branding options to make your logo pop like fireworks on Bonfire Night. Not to mention the world class bartenders. They're not just mixologists, they're cocktail maestros, whipping up concoctions that leave the tastebuds tingling with sensory delight.
Impressing with Signature Drinks
Imagine impressing potential clients with signature drinks that match the sophistication of your products and/or services. It's not just a beverage, it's a statement! So, when you're offering a perfectly shaken martini that's as smooth as your sales pitch, you're telling the world, "We don't do mediocre." It's an overall experience that mirrors the quality and excellence you bring to the table, adding a touch of class, and leaving a fantastic impression of your business etched into your guests' minds.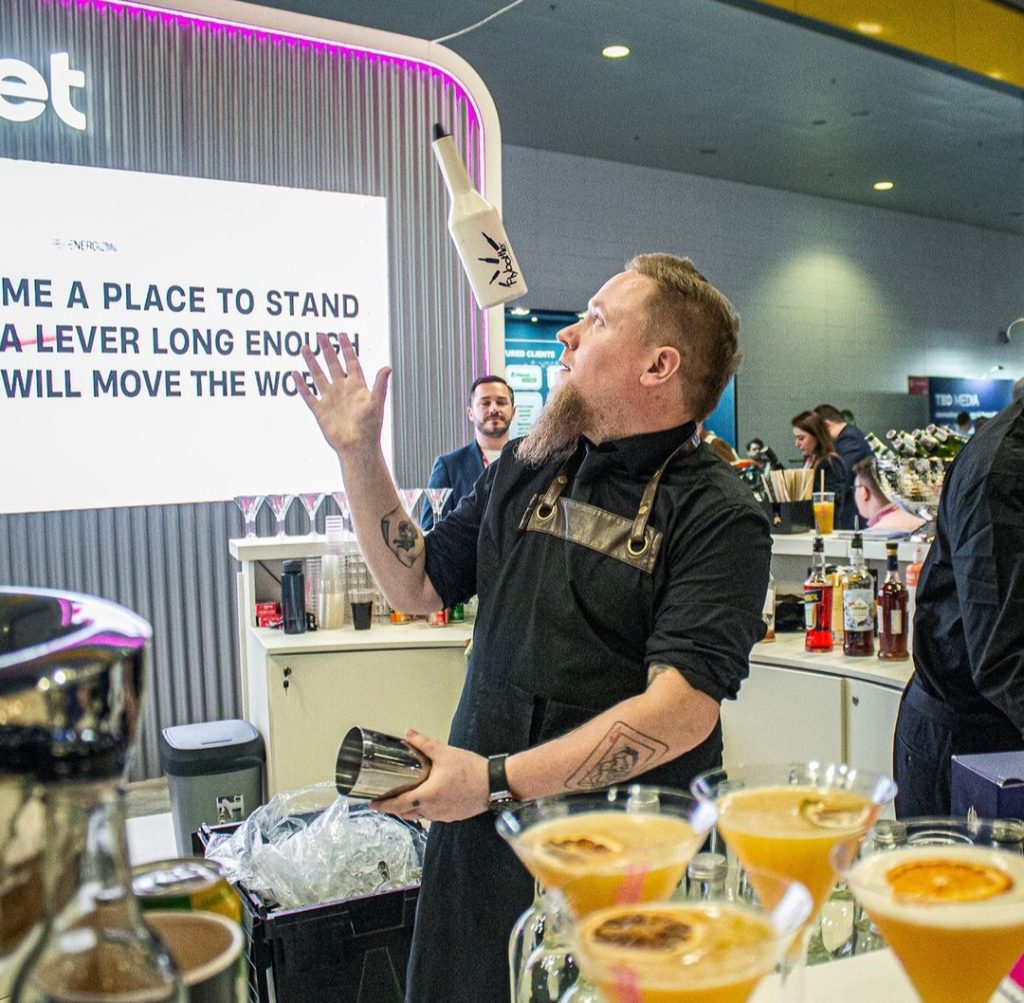 At Ace Bar Events, our professional bar hire servicesare your golden ticket, whether you're closing deals at an expo, or stealing the show at a swanky soirée, No shortcuts. No compromises. Get in touch for services that go beyond just serving drinks. We're serving success, one perfectly crafted cocktail at a time.