A purple slate mobile bar, pixel tubes and more for this sophisticated private event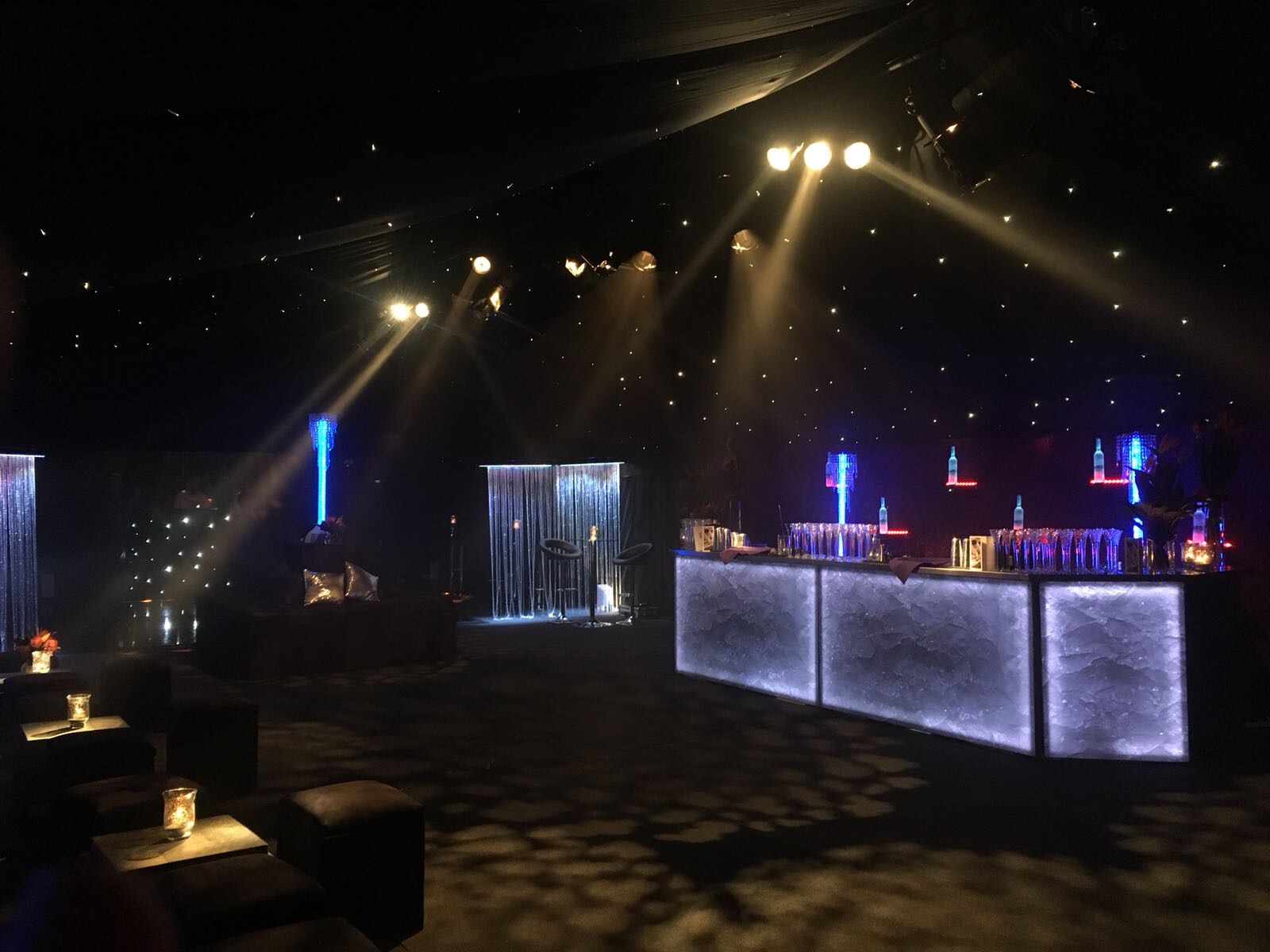 Our rather impressive purple slate mobile bar was back in use recently for a private 50th celebration in Surrey. Our purple mobile bar with the slate fascia is rather versatile; great for crystal or a stone themed mobile bar as well and with a few additions, a rock and roll themed mobile bar.
Taking place in a marquee in the back garden of the private residence for around 60 guests, the purple slate mobile bar was situated front and centre. After all keeping your guests well fed and watered is the 1st rule of hosting any form of event or party, right!? Our friends at Vanilla Bean provided all of the catering for the event, whereas we handled what we do best – the drinks.
In addition to our purple slate mobile bar, we also had two of our flair bartenders on site who manned the mobile bar, mixing cocktails and making beverages all night long. The great thing about choosing to go with a couple of flair bartenders to man the mobile bar rather than your simple bartender, is the entertainment factor they add. A standard bartender will be able to make your cocktails and serve you drinks – sure that keeps the guests happy, but it wont wow them. That is where the flair bartenders come in, they not only make great cocktails – but look exceptional whilst making them!
The overall event theme the client wanted was a West End night club theme, this is where the purple mobile bar came in. Part of our HD Range, the purple slate fascia sits in front of a number of powerful LED's that make the bar look great and will certainly ensure nobody misses it! Alongside the pixel tubes with crystal chandeliers, which we sourced from our friends at Table Art, the West End night club theme was complete. All that was missing was the doormen!
Served all night long was a choice of cocktails that were agreed on prior to the event, including a Porn Star Martini and a Bellini. We have a wide selection of our own cocktail creations here but are able to make almost any cocktail of your choosing. If you require something a bit more bespoke we can accommodate this too, with our own unique cocktail creations. Be it certain flavours, brand colours, or whatever it is – we can probably work it into your very own cocktail.

If you are interested in our purple slate mobile bar, purple mobile bar, our flair bartenders, table art of anything else – then please do not hesitate to get in contact.