When you can't be together during the Christmas period, cocktail experiences at home are the perfect present to yourself, your family and your friends.
Perhaps you live too far away from each other to fit a get together in during the holidays.
Perhaps you or your loved ones are self-isolating.
And let's not forget those in-between nights during the Christmas break when there's nothing planned, nothing on TV, and a flat-as- a-pancake vibe?
These are all great examples of when cocktail experiences at home are just the tonic you need to shake things up a bit.
So, what's the deal?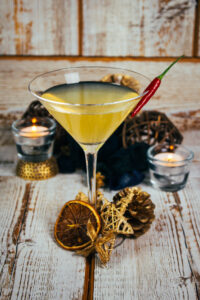 What Happens When You Book Cocktail Experiences at Home?
When you're booking cocktail experiences at home, expect –
Cocktail Boxes Delivered to Your Doors – You provide the names and addresses of everybody taking part. We'll send you all a 'box of tricks' that includes all the ingredients, nut and bolts you'll need (apart from the glasses and ice) to create some very cheeky cocktails together – even though you're apart.
Spoiler alert: Think mouthwatering Mexican Elf Kick and scrummy St Nick's Tipple.
Remote Access – Everybody joins your soiree remotely on Zoom or Google Meets, without having to leave the warmth and comfort of their own homes.
Virtual Host – One of our experienced virtual hosts joins you live from our Winter Wonderland studio. You'll be treated to an hour of fun facts, banter and step-by-step guidance for tipple triumph. Drinks disasters aren't an option.
Icebreaker – We'll soon have your party popping with a Christmas quiz to get the cockles warmed.
Ace Race – You're all invited to get your competitive juices flowing by taking part in an adrenalin-pumping race to see who can make the classiest cocktail in super quick time.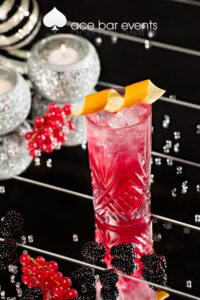 At Ace Bar Events, our cocktail experiences at home are guaranteed to get you in the festive spirit, no matter how cold outside it is.
Get in touch to make a booking. Your kith and kin will thank you for the best night in they've had the entire Christmas season.