Hired bar services are an ingenious way to sparkle up the biggest night of the year.
Like the Huffington Post says, "It's the question people ask every year – forget Christmas, what are you doing on New Year's Eve? Have you found a willing house party host or a pub that doesn't cost £50 a pop to get in?" 
So, if you're the "willing house party host" this year and you've not thought about hired bar services yet, why not?
It's the perfect hybrid of throwing a traditional knees-up at home, hiring a venue, and going to a bar.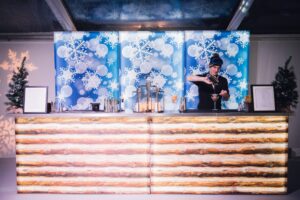 Hired Bar Services are Awesome for You and Your Guests
Having hired bar services in your home or your marquee means you can kick back and see the new year in with your guests – without the responsibilities of playing the host with the most.
No hitting the shops and spending a fortune on all the different types of drinks needed to suit everybody.
No having to buy extra glasses or disposable versions.
No running around like a headless chicken on the big night, seeing to your guests, fetching ice and sweeping up any breakages.
You can have a fabulous time, too, while professional hired bar services personnel look after the rest.
The Best of the Hired Bar Services in 2021
Ace Bar Events has a range of seasonal packages for various preferences and purses.
The Christmas Monroe is the jewel in this year's festive crown. It features –
A welcome theatre cocktail for every guest
Unlimited cocktails, spirits and mixers, beers, wines and soft drinks
A round of shots
Bar hire with choice of fascia and HD back panels
Mixologists / Flair bar tenders
Support staff
Glassware hire
Ice
Compostable straws
Beverage napkins
Better still, the more guests you have, the less you'll pay on a sliding scale. Prices start from just £55.00 per head for 110+ guests, rising to £79.00 for less than 50 guests.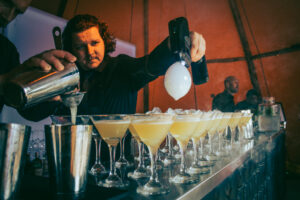 At Ace Bar Events, there's much more to our hired bar services than the time and effort you'll save. In addition, your guests will feel like you're really pushing the boat out for them after last year's subdued affairs.
Source
A Guide To Doing Your New Year's Eve At Home Because… 2020, Amy Packham, Huffington Post
https://www.huffingtonpost.co.uk/entry/new-years-eve-at-home-2020_uk_5fc617e7c5b68ca87f87a848