The rise and rise of the gin tasting experience was expected. Gin has become a force of nature in the spirits world during the past decade, after all.
You only have to look at the supermarket shelves lined with myriad colours and flavours of gin. It's come a long, long way since its days of being served with lime or orange cordial in the '70s.
Market research consultancy, Savanta, summarises – "Since 2013 there's been a boom in gin sales – the so called 'Ginaissance'".
Corporate event organisers and private party planners are embracing the so-called 'Ginaissance', too.
So, what might sway you towards a gin tasting experience for your forthcoming event?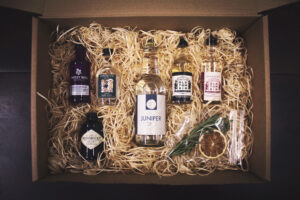 How a Gin Tasting Experience Glows Your Get Together Up
There are many reasons a gin tasting experience will float your boat.
A few of the most common are –
Different – A gin tasting experience is a refreshing change – pardon the pun! – from whisky, rum and tequila tasting experiences that have been around for longer.
Discovery – An introduction to an expertly selected combination of regular and premium gins is a great way to discover what you like. The new favourites you discover might become your regular tipples.
Educational – A great gin tasting experience shouldn't be a lesson or a lecture. But it should be interesting and conversation starting. You and your guests will learn plenty of fun facts and figures about the gins you're sampling.
Gender Neutral – Gin tasting is generally considered less gender specific than cocktail making, which can be perceived as a female-oriented activity.
Practical – You'll learn about the origins of different gins, what sets them apart from each other, how to serve them, and which mixers work best with which gins. You'll leave poised and ready to be your own at-home mixologist.
At Ace Bar Events, we're longstanding experts in fun, high energy, stylish tasting experiences in hotels, venues and private homes. If you'd like to find out more about booking an in-person or virtual gin tasting experience for up to 60 people, you're in the right place for a chat.
Sources
How Gin & Tonic became the ultimate all-occasion drink, Martin Dinkele, Savanta
https://savanta.com/view/how-gin-tonic-became-the-ultimate-all-occasion-drink/