Two of the hottest drinks at this year's summer cocktail parties are modern takes on an '80s classic that dates back much longer – the velvety smooth, fruity and frankly ambrosian Piña Colada.
The contemporary incarnations flying off the bar at summer cocktail parties circa 2021 are –
A base of white rum mixed with a blend of coconut and banana purees, muddled with pineapple juice and garnished with a dehydrated pineapple.
Bajan rum and coconut rum, blended with a sweet spiced cordial and homemade pineapple and coconut reduction, served on a coconut ice block and finished with a flamed overproof rum.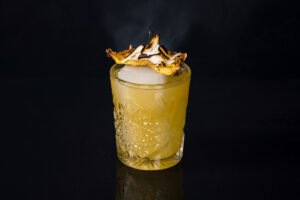 Original sassy Piña Colada is so well-loved it even has its own anniversary. It's unsurprising that updated versions of it are guaranteed attention grabbers.
Piña Colada Day on 10th July is the prime time to recall the history of this sumptuously creamy cocktail that's synonymous with summer and irresistible if you're nuts about coconuts.
It was invented by the original pirates of the Caribbean off the Puerto Rican shores in the 19th century. In 1954, it was repurposed by Ricardo Garcia, a Bartender at San Juan's Hilton Hotel.
This succulent staple of summer cocktail parties was even the subject matter of a late '70s global hit single. A hapless Rupert Holmes sang,
"If you like Piña Coladas
And gettin' caught in the rain,
If you're not into yoga,
If you have half a brain"
It seems the record buying public de jour quite possibly did!
At Ace Bar Events, we're taking bookings right now for summer cocktail parties in 2021 and 2022. We help with cocktail bar hire, the Mixologists, Servers and Glass Collectors, the drinks, the equipment…
Whatever you need or don't need is completely bespoke to suit. Though one thing remains the same. All summer cocktail parties supplied by us pack a perfect party punch – a Pinapunch in many cases.
Source
Piña Colada Day, Days of the Year
https://www.daysoftheyear.com/days/pina-colada-day/