The mega success of the online cocktail masterclass during lockdown months isn't slowing down because the world is starting to reintegrate. And the reason for continued demand isn't just because 'Freedom Day' has been stalled.
The brilliant online cocktail masterclass is here to stay because it's an effervescent work or play activity that brings people together when they're apart. It's as simple as that.
The drinks selection is pretty sparkling, too.
Every legendary Ace Bar Events online cocktail masterclass features not just one long, cold, thirst quenching iced tea-based cocktail but two for good measure.
Serendipitous that June is Iced Tea Month. It figures, because June is usually the first month of British Summertime that truly lives up to its name.
Iced tea is an off-centre and contemporary take on the nation's favourite cuppa, even though it's been around for over a century.
We love it with lashings of crushed ice and luscious fresh fruit slices, like guzzling down summer in a glass.
But, here's a warning! We're talking about something a bit boozier than ice and a slice when you book an online cocktail masterclass for a sales meeting, a corporate party or a personal bash.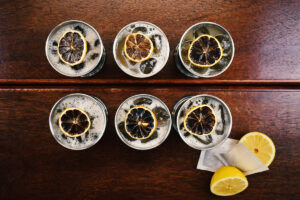 What's in the Box for Online Cocktail Masterclass Guests?
Every guest that's attending an online cocktail masterclass will be fully prepped to party when the day arrives.
They'll receive a box of ingredients for three each – yes, that's nine in total! – of your pre-selected artisan crafted cocktails, plus information about the correct glasses to use for each tipple.
Ice tea is proudly represented by –
Bergamot Gin Collins – A uniquely refreshing gin-based drink made with an Italian tea syrup, flavoured with bergamot fruit and lemon juice and lengthened with soda.
Whisky Iced Tea Collins – A modern twist on the classic whisky collins, shaking whisky and iced tea syrup with lemon juice, topped with soda and a dehydrated lemon wheel.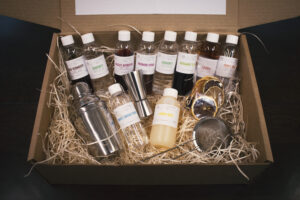 All that's left for you to do is kick back, relax and let Ace Bar Events host the consummate online cocktail party on your preferred digital platform.
It's a special brew, but kettles aren't welcome.