There's a deliciously decadent range of premium quality bottled cocktails on the market. They've progressively got better and better. It's fair to say they're now of equivalent to what you'd expect to pay a premium price for at elite cocktail bars where mixology is revered as an art form.
One of the most popular bottled cocktails in this superlative category has been dubbed as "the world's most misunderstood cocktail" by Chilled Magazine.
That drink is Daiquiri. It's named after the home town in the Havana suburbs of the Cuban miners who invented it. And it's celebrated on Daiquiri Day on 19th July every year.
Chilled Magazine describes Daiquiri as having –
"A major identity crisis with a side of multiple personality disorder. If there ever was a vintage cocktail that could lay claim to the said plight, the Daiquiri would be it. Worldwide, it's known as a boozy slushy" (usually strawberry flavoured and topped with whipped cream out of an aerosol can) "synonymous with college spring breaks or beachy vacations.
In reality, the original Daiquiri was a simple sour (base spirit, citrus, and sweetener)."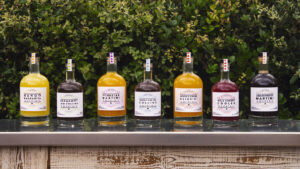 High calibre bottled cocktails often feature more refined flavours than mass market versions. It differentiates them from the cut price student image that some cocktails, including the Daiquiri, have become associated with.
Besides elevating their image, a more imaginative flavour spectrum is expected as a mark of top of the range bottled cocktails.
Papaya and Ginger Daiquiris are no exception. They're prime examples of crème de la crème bottled cocktails with a distinct twist –
Papaya & Ginger Daiquiri – Tropical gold rum and papaya puree shaken with a blend of ginger syrup, lime juice and apricot liqueur. Tasty!
At Ace Bar Events, our top tier range of pre-batched cocktail bottles are perfect for treating your guests to special artisan cocktails for at-home soirees or at event venues.
Like the sound of our glorious twist on Daiquiri or any of our other glorious pre-batched cocktail bottles?
Have a shop around, add your favourites to your basket and check out online at https://acebarevents.com/cocktail-bottles/
It's that easy.
Source
The world's most misunderstood cocktail, Chilled Magazine
https://chilledmagazine.com/drink-in-history-the-daiquiri