During the 2020 Christmas season literally thousands of UK businesses rewarded their teams with virtual cocktail making.
And, guess what happened? Their virtual cocktail making sessions were such a roaring success they started to think about the work's Christmas do in a new light.
Larger teams spread around the country are having second thoughts about the function room… the traditional turkey and trimmings… the DJ churning out Wizard and Wham… and all the travel, accommodation and expense that goes along with the customary Christmas bash.
The idea of going back to it has started to lose sparkle for far flung teams that experienced the best ever festive nights in last year.
So, what's the deal?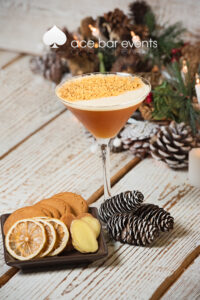 How Does Virtual Cocktail Making Work for Remote Christmas Parties?
Like most things with events, one Santa's hat doesn't fit all.
The bigger your team the more nuances and bespoke bits you might need to give your virtual cocktail making session an extra sprinkling of yuletide magic.
But, where ever your guests live, all they'll need is a connection to get online.
They'll each receive a beautifully boxed cocktail making package in the post, including ingredients and instructions about glasses and any other nuts and blots they need to provide for themselves.
With this year's virtual cocktail making boxes, your guests will be shaking, rattling and rolling limited edition Christmas cocktails, for example –
Mexican Elf Kick – A fresh, citrusy and savoury tequila, zesty lime juice, sugar, tangy pineapple puree and chilli drink to awaken all your senses with spicy and smoky aromas!
Nick's Tipple – Whisky, ruby port, orange, lemon juice, sugar syrup and grated nutmeg, balancing sweet vanilla oak, citrus warming spice and red fruit, finished with a touch of grated nutmeg.
At Ace Bar Events, we're specialists in large virtual cocktail making parties with guests logging in from far and wide.
Get in touch for a chat about your specific needs at 020 3095 0455 so we can make all your Christmas tipple wishes come true.