In-demand themed cocktail bars for parties are often influenced by whatever films and tv series are capturing the public imagination and keeping everybody talking.
Some come and go. Other themed cocktail bars for parties stay the same decade after decade. One of them is the weird and whimsical Mad Hatter's tea party theme.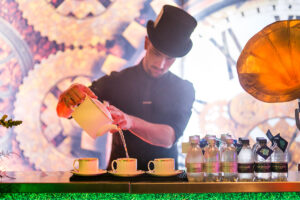 Lewis Carroll's charming yet capricious character was engrained in to our collective consciousness long before Jonny Depp became Tim Burton's Mad Hatter muse. But, 2010's Wonderland and 2016's Through the Looking Glass turbo boosted the cool of this endearingly eccentric character all over again.
The 10/6 sign in his pea-green topper represented the hat's price in old money. The price on the sign has since been spun and 6th October became Mad Hatter Day.
A day in his honour, corroborating that Mad Hatter themed cocktail bars for parties never go out of fashion. They're fabulous, fantastical and organisers can let their creativity run riot in the most unimaginable ways.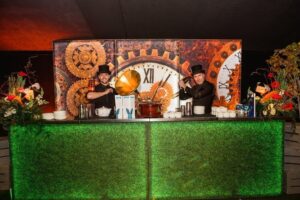 Four Curious Components of Mad Hatter Themed Cocktail Bars for Parties
Here's some inspiration for Mad Hatter themed cocktail bars for parties, to save you having to go ask Alice –
Bar – A HD grass effect on the bar fascias creates a fanciful al fresco effect, backlit with LED lights that make the vibrant graphics really pop.
Backdrop – In addition to the bar itself, freestanding back panels featuring clock images tie into the Mad Hatter theme.
Bar Tenders and Mixologists – Use the folks behind the bar to help bring the theme to life, with top hats, waistcoats and fob watches, looking the part besides creating and mixing peculiarly perfect drinks.
Cocktails – Earl Grey Old Fashioned served from china tea pots, anybody? Insane! But, we love it.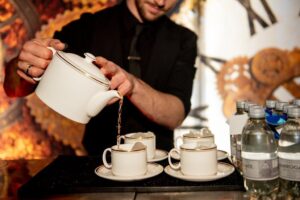 At Ace Bar Events, we're known as specialists in themed cocktail bars for parties by many corporate brands, well-known hotels and venues.
If you're in the market for themed cocktail bars for parties you'd be entirely bonkers not to give us the opportunity to bring your vision to life, no matter how potty it seems.
"…I'll tell you a secret. All the best people are."
Source
Mad Hatter Quotes, Goodreads
https://www.goodreads.com/quotes/tag/mad-hatter