Bourbon Day on 14th June feels like the ideal excuse to take a closer look at the continued domination of this celebrated tipple, to understand why it appears on more and more cocktail party hire menus.
A National Geographic article by Zane Henry summarised what he feels are the main reasons UK Bourbon sales have topped £1bn. This equates to a staggering one million litres being supped by British drinkers on a monthly basis:-
"There are a few potential reasons for the spike. The ever-thirsty Don Draper from TV's Mad Men became a flag-bearer, while the current popularity of American-style barbecues here in the UK certainly hasn't hurt. But it's mostly because Bourbon is seen as more accessible than the esoteric, rarefied world of Scotch. Bourbon feels more 'anything goes', and lends itself more to cocktail culture."
Well-loved traditional Bourbon cocktails like the Mint Julep and the Manhattan have been staples for cocktail party hire for years.
But, there's more to Bourbon cocktails these days. Professional mixologists work wonders with this smoky, slightly rock'n'roll nectar from the Bluegrass state of Kentucky.
Here's three of our cocktail party hire favourites. They demonstrate how perceptions of Bourbon have shifted from the smoky backroom bars of Tennessee to a drink for all seasons. It can be as light and refreshing or as heady as you like:-
Chocolate Pecan Pie Old Fashioned – The Pecan Danish meets the Old Fashioned. Homemade pecan and cinnamon infused Bourbon stirred with chocolate wine and aromatic Brazilian bitters. It captures a boozy, sweet and sticky pudding in a liquor.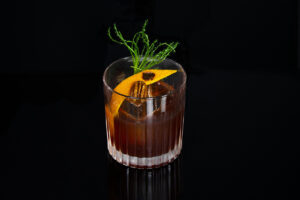 Flower Power – Bourbon mixed with pineapple juice, lemon juice, elderflower syrup, passion fruit puree, and a lemon twist to garnish. The result? Cool summer freshness for hazy afternoons and balmy nights.
Smoked Shrove Tuesday –  Bourbon, maple syrup, angostura bitters, fresh lemon and applewood smoke. An impeccably dark and luxurious treat.
Look no further than us, at Ace Bar Events, for best-in-class cocktail party hire for corporate events and personal celebrations. Our completely bespoke cocktail party hire packages can include any combination of bar hire, drinks, glasswear, staff – and Bourbon-based cocktails – to suit.
Sources
The rise of bourbon, Zane Henry, National Geographic