Our gin bar for weddings has been exhibiting recently at the National Wedding Show at Olympia, London. The gin bar represents the best in portable bars for weddings, made up in a quintessential English cart and with more than just gin on offer! In fact our bars for weddings can be made into any bar of your choice, be it a gin bar, rum bar, vodka bar or whisky bar – although we do recommend keeping it all the same rather than mixing and matching.
With over 800 experts exhibiting across the National Wedding Shows, specialising in everything from stunning dress to sparkling accessories, astounding flowers to mouth-watering cakes, The National Wedding Show represents the ultimate destination for shopping, inspiration and wedding planning. There are seminars on offer, giving out advice on how to make your wedding budget stretch, to how to plan your big day; designer dresses, finishing touches, and a grooms room to ensure that everyone is catered for.
The gin bar fitted in perfectly amongst the other wedding exhibitors and was the only portable bar hire for weddings of its kind. There are many other mobile and portable bars on offer (we should know as it is where we specialise!), although none are like the gin bar. The smaller size of the setup allows for a more intimate and immersive experience, stepping up to the bar, conversing face to face with one of our trained gintenders, a choice of 10 different gins straight ahead, along with a whole range of mixers and garnishes.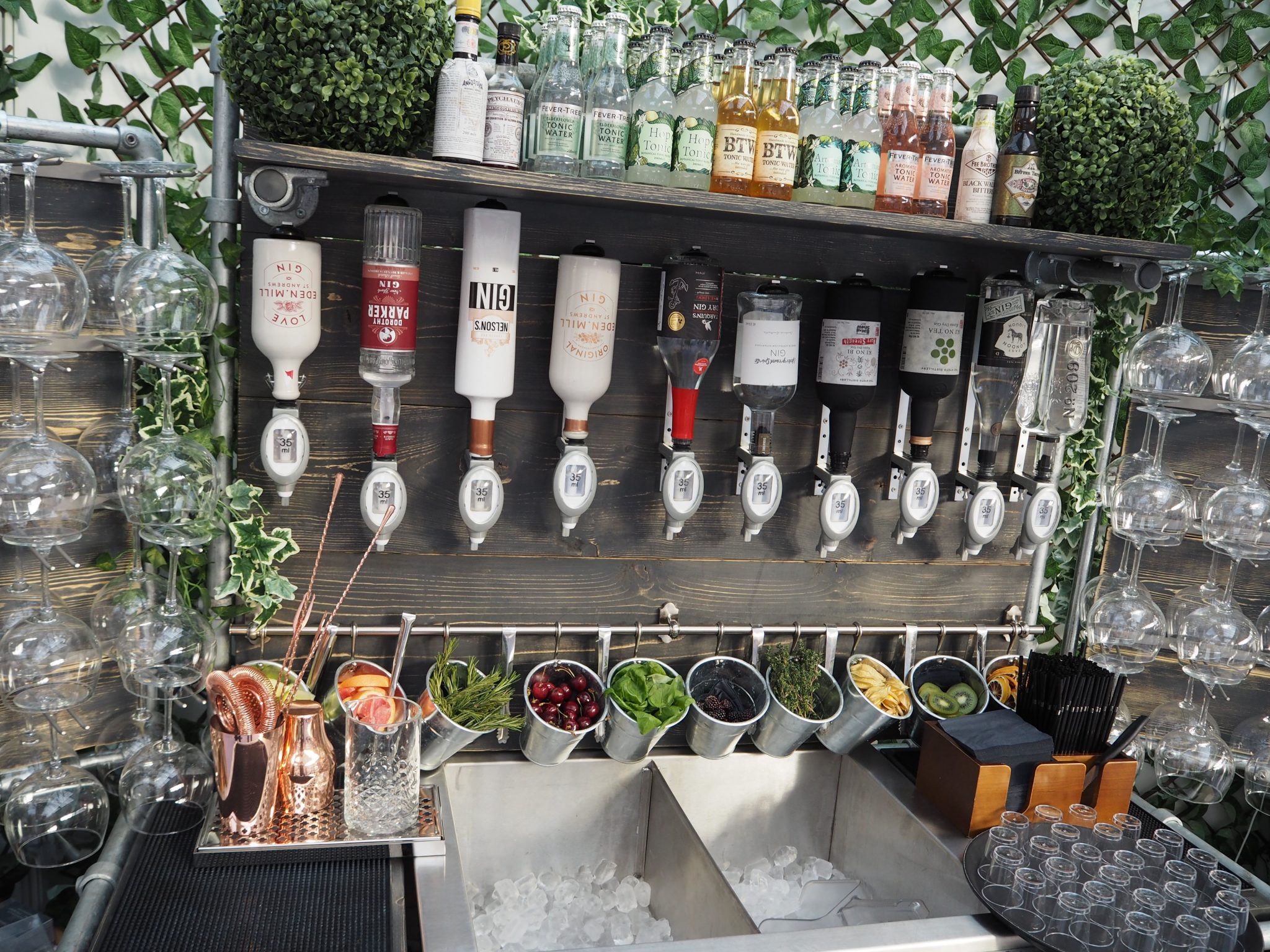 The gin bar wouldn't be complete without the little extras, so everything from the faux foliage to the pegboard menu, themed crates and more can all be included. There doesn't seem to be a limit to where the gin bar for weddings can be used, although we have found it is best utilised during the wedding reception phase, or just after the ceremony when photos are being taken and the guests have a bit of time to themselves. It is a fun and casual experience to approach the gin bar and build your own drink, allowing for hundreds of different combinations. It can become a great talking point as your guests drink away and merrily share their idea of the perfect gin creation.
To cover the important particulars: the bar is available with your choice of 10 different gins and 4 different tonics – as well as a plethora of different garnishes. Simply step up to one of our bars for weddings and customise your drink from start to finish, picking your gin (or combination of gins – naughty!), a choice of tonic and as many of the garnishes to finish it off as you please. There is even an interactive element to our gin bars, if you want to get involved in the drink making experience, then by all means, step on up and have a go!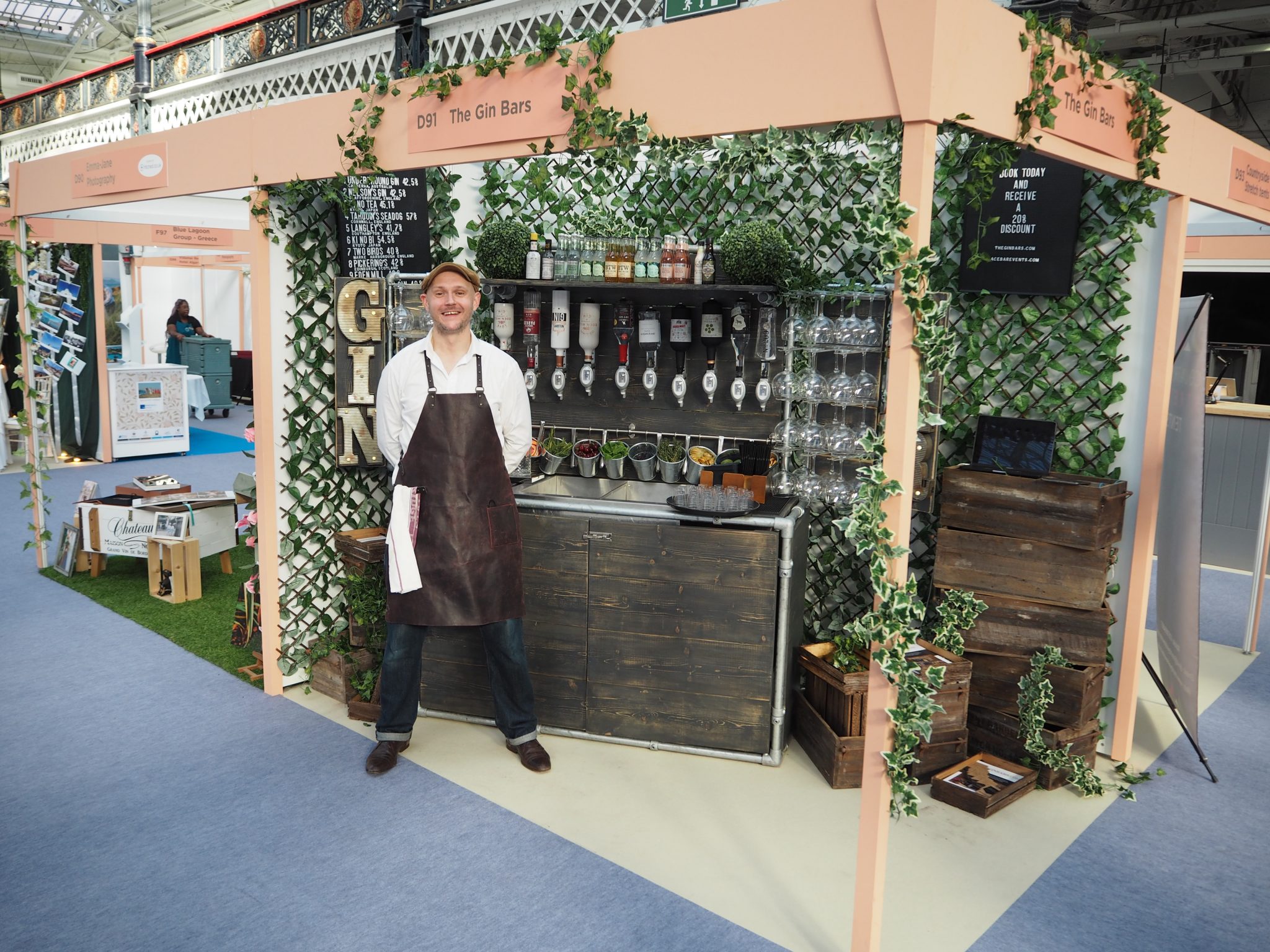 Our highly coveted 'gintenders', who will be able to answer your questions on our whole range of gins as well as discuss with you the different flavours and combinations that will taste best. We provide everything that is needed to keep the gin bar up and running including ice, garnishes, glassware and most importantly – the gin!
Gin can be a simple pleasure, no doubt. But just ask any mixologist and they'll tell you how incredibly versatile gin is. Gin cocktails are hugely popular again and with Craft Gins popping up all around the UK, the choice of gin has never been so good.
If you are interested in our portable bar hire for weddings, gin bar for weddings, bartender hire or anything else – then please do not hesitate to get in contact!