A beautiful botanical bar for RHS Wisley in the iconic Glasshouse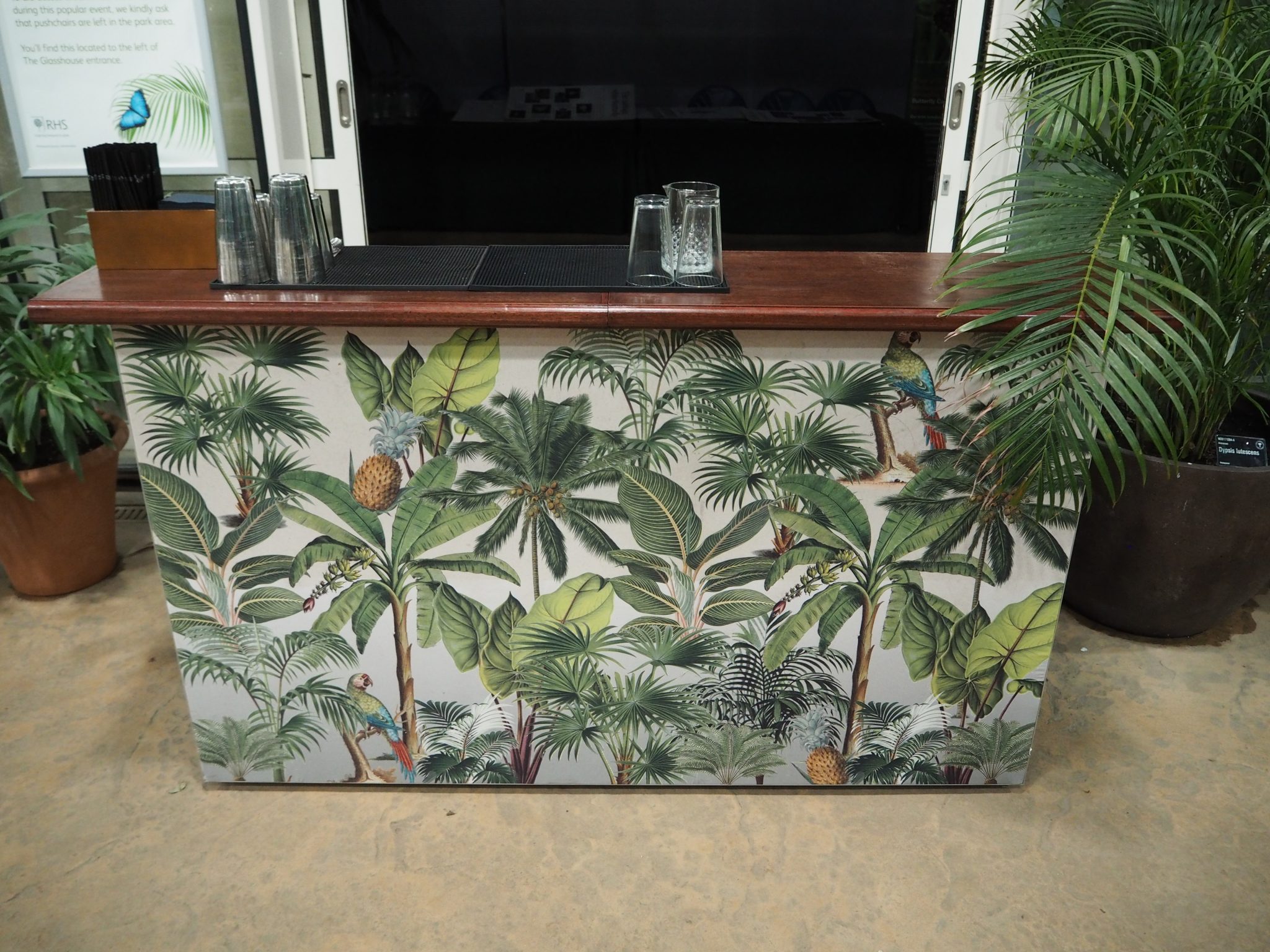 We had the pleasure of putting together this beautiful botanical mobile bar as part of our botanical mobile bar hire and bartender hire service for RHS Wisley. This was a return to the wonderful RHS Wisley in Surrey where we have supported summer events in some of their outdoor spaces. It was however our first time in their iconic Glasshouse.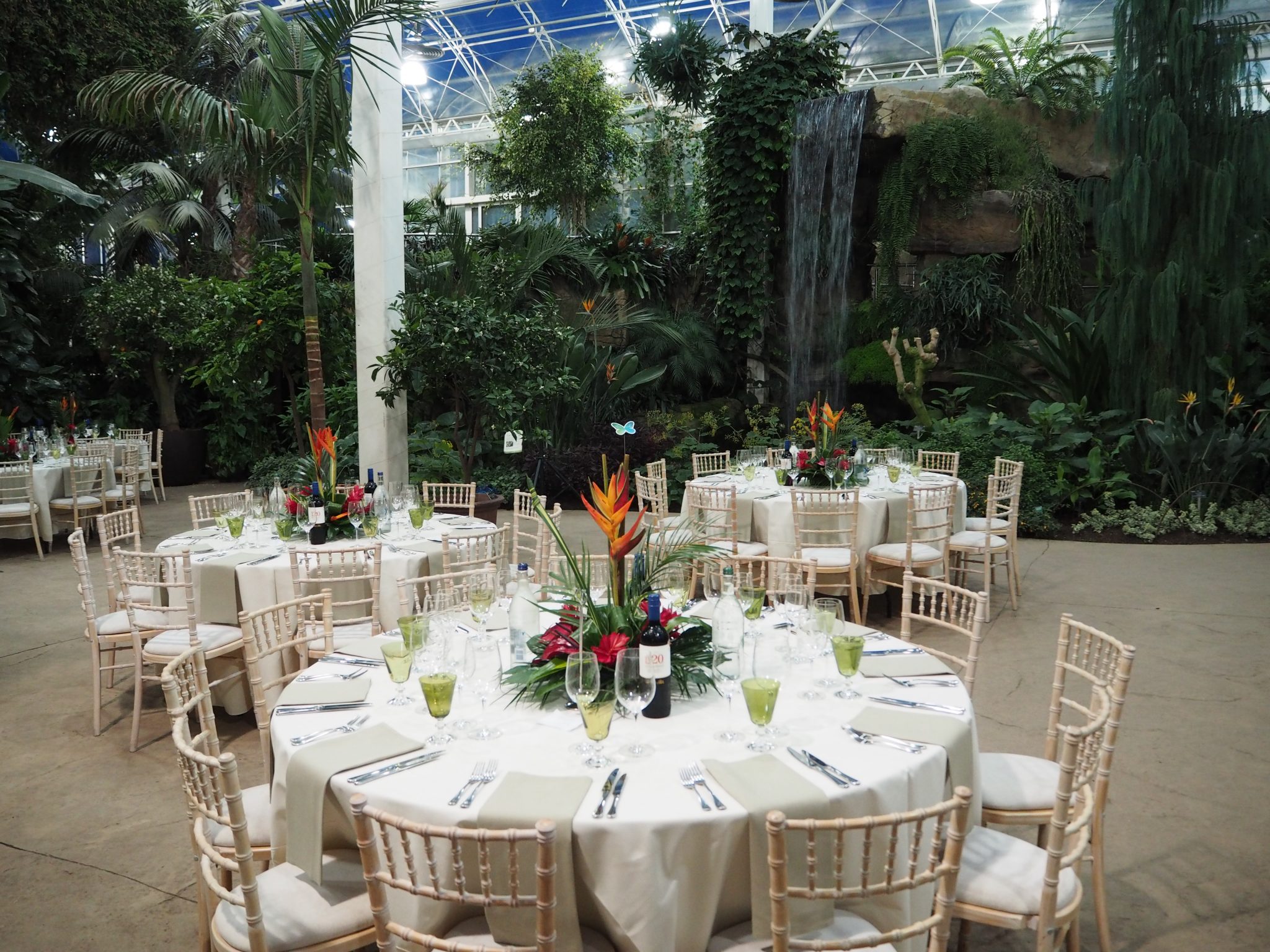 The huge cathedral-like Glasshouse, covering the area of 10 tennis courts and rising to 12m (40ft) high, is home to the RHS's world-class tender plant collection. One of the greatest elements of the Glasshouse is the fact that the interior changes quite dramatically depending on the time of year, bright and vibrant Orchids and Fuchsias sprouting from April through to July, with a wide variety of South African plants and Chrysanthemums appearing between October and November.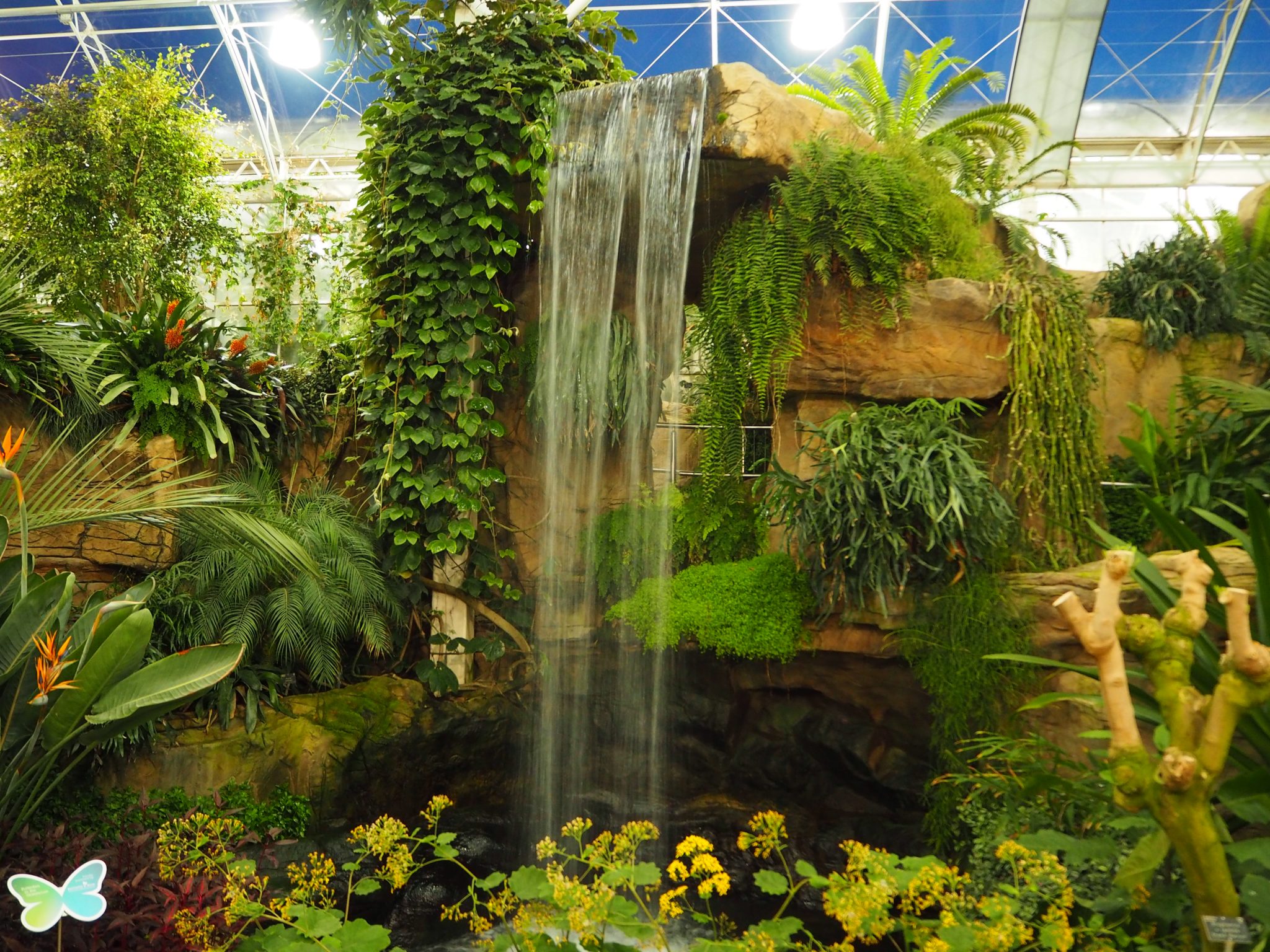 The Glasshouse is big enough to have different temperature controlled zones, with the moist zone, dry zone and tropical zone. Each zone has its own temperature and humidity levels, therefore travelling around the Glasshouse can seem like quite an adventure, albeit only the size of around 10 tennis courts. As you can imagine this interior jungle can make quite the event venue with RHS Wisley hosting a corporate event.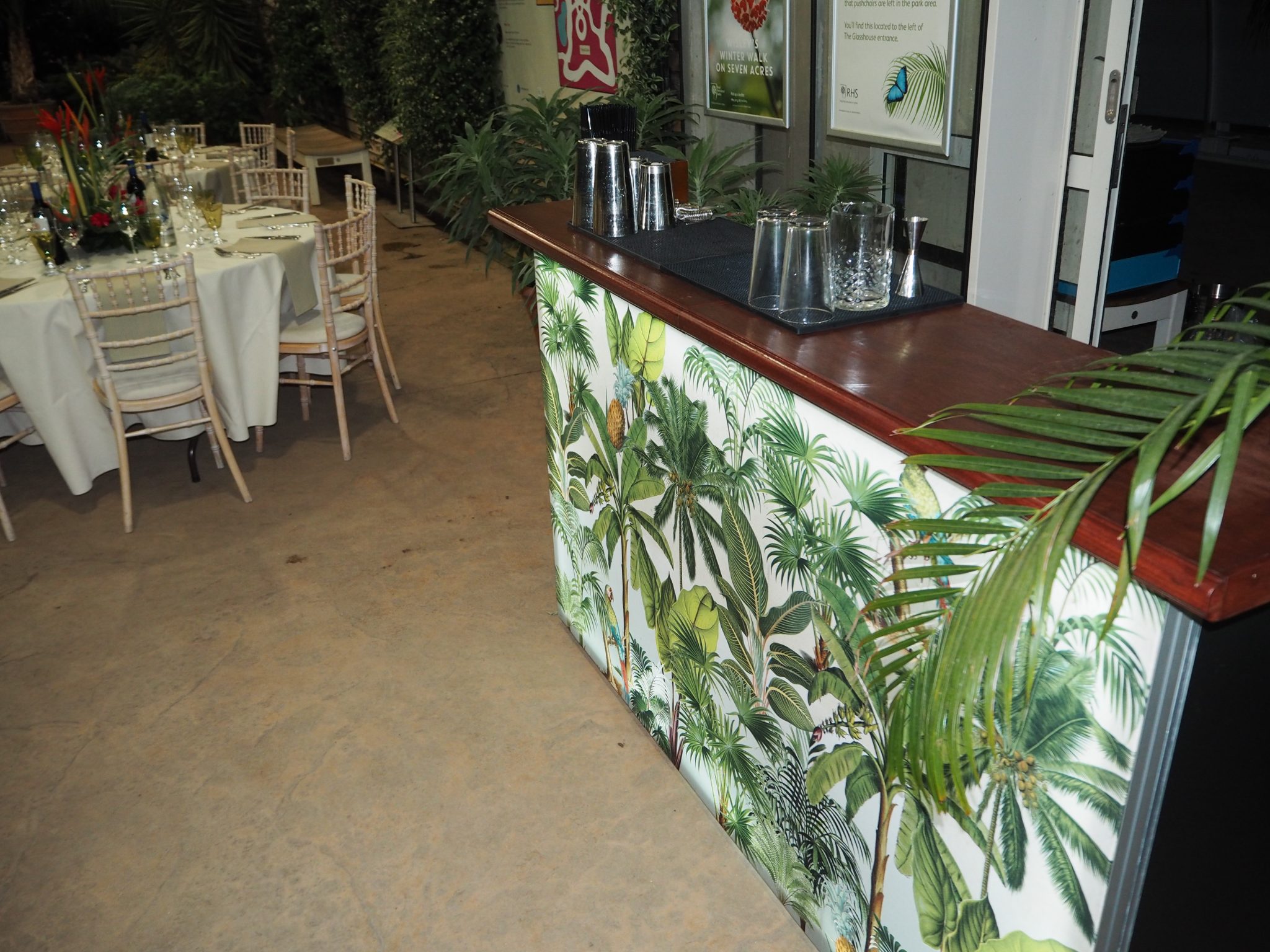 We were tasked with suggesting one our mobile bars that would fit in nicely with its surroundings, regarding both the style of the bar and the materials used. Our botanical bar was the obvious choice, with its tropical feel and subtle back-lighting. The botanical mobile bar, like all of our mobile bars has interchangeable fascia which allow for almost any image or scene to be depicted on the front of the bar. As this particular mobile bar is part of our HD range it also has the option of back-lighting, we also have a range of LED mobile bars that can be lit to any colour on the RGB spectrum.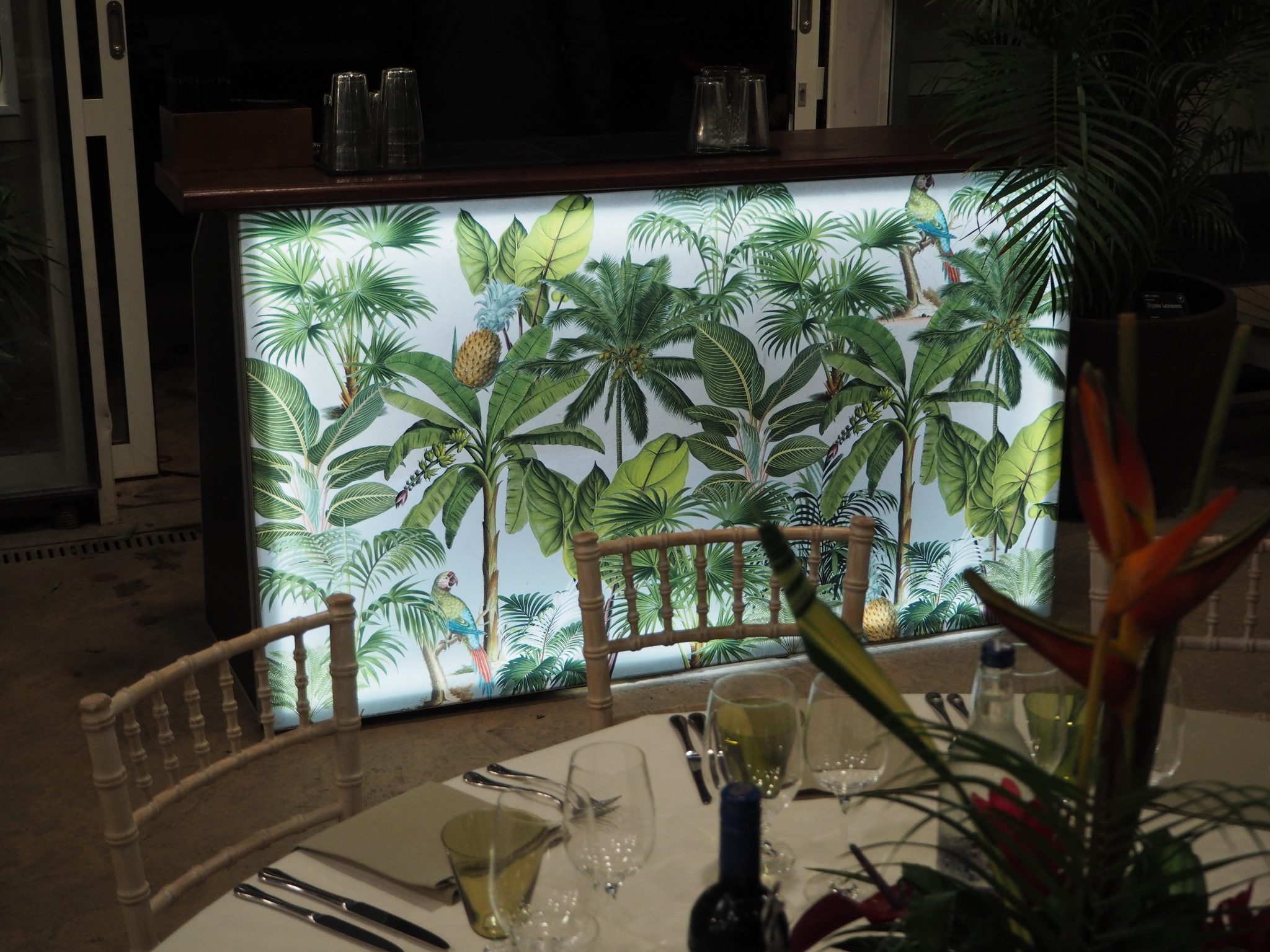 With the oak bar top finish and tropical arrangements the botanical bar sat very comfortably in its surroundings. Naturally our mobile bars such as the botanical mobile bar hire can be suited to almost any venue, even the most unique such as the Glasshouse.
There were around 100 guests in attendance for this sit down dinner at RHS Wisley, with our professional mixologists on hand supplying a selection of drinks throughout the meal and the rest of the evening. Alongside top class catering, the whole event proved to be a grand success for both RHS Wisley and their corporate client.
If you are interested in our botanical mobile bar hire, botanical bar for any other reason, bartender hire, or anything else – then please do not hesitate to get in contact.