A whisky tasting masterclass can go down better with the guys than cocktail making – though this is a sweeping generalisation. Thousands of women love a whisky tasting masterclass and the same vice versa. Thousands of guys are hot to trot for a cocktail making session, too.
But, it's International Men's Day on 19th November –
"International Men's Day is an opportunity for people everywhere of goodwill to appreciate and celebrate the men in their lives and the contribution they make to society for the greater good of all."
So, this one's for the guys.
And, let's be honest, chaps. Who wouldn't prefer a whisky tasting masterclass to socks, hankies or a tin of mints.
In addition to being a brilliant Christmas gift experience, the naughty but nice whisky tasting masterclass can wear many different caps.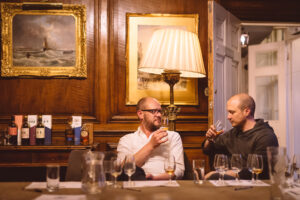 What Occasions Can You Book a Whisky Tasting Masterclass for?
For business or pleasure, a whisky tasting masterclass is wicked for –
Higher end stag parties
Christmas do's for male-heavy teams
Birthdays
Festive get- togethers with friends and family
Leaving parties, retirements and reunions
The Cathy in Singapore did an entertaining feature on personality types by drink. Here's what they had to say about the whisky drinker –
"If whisky is your signature drink, you are mature, deep and confident. You enjoy the mystery and intellect that comes with having a whisky neat, and the depth of a good whisky. Whisky drinkers like sharing stories about life, and are confident to do so even in a group setting."
If that sounds like you and your compardres, a virtual whisky tasting masterclass or in-person at your home or a hired venue is the bee's knees.
At Ace Bar Events, we're proud whisky tasting masterclass experts. We'll talk you through how different whiskies are made and how production methods impact the flavour. Whisky galore!
Sources
International Men's Day 19th November, International Men's Day
https://internationalmensday.com/
What Your Choice of Alcohol Says About You, The Cathay Singapore
http://thecathay.com.sg/trending/alcohol-personality