It's official! UK audiences are booking gin tasting sessions in greater numbers than ever before. "Why the national scrum down for group gin tasting?", you might be thinking. It's because "… gin is officially the nation's favourite spirit (having overtaken whisky)", according to data and insights giant Kantar.
The white stuff is celebrated globally on World Gin Day on 11th June every year. But the juniper-based elixir has been embraced with fresh palates in the UK specifically, shaking off its dubious reputation as 'Mother's Ruin' on William Hogarth's Gin Lane.
Kantar's research confirms and amplifies gin's exponential rise. The facts and figures demonstrate that –
25%+ of us bought gin during the past year, including flavoured gins and gin liqueurs, representing a 10% increase over the past four years
Gin is increasingly popular with the 18-24 age bracket, up from 43% four years ago to a massive 55%
As a result, it goes hand in hand that groups of all ages and demographics, from hen parties to high-flying corporates, can't wait to get together over the nation's favourite tipple.
Now, expertly commandeered gin tasting sessions combine the people, the place and the product to lip-smacking perfection. Here's how…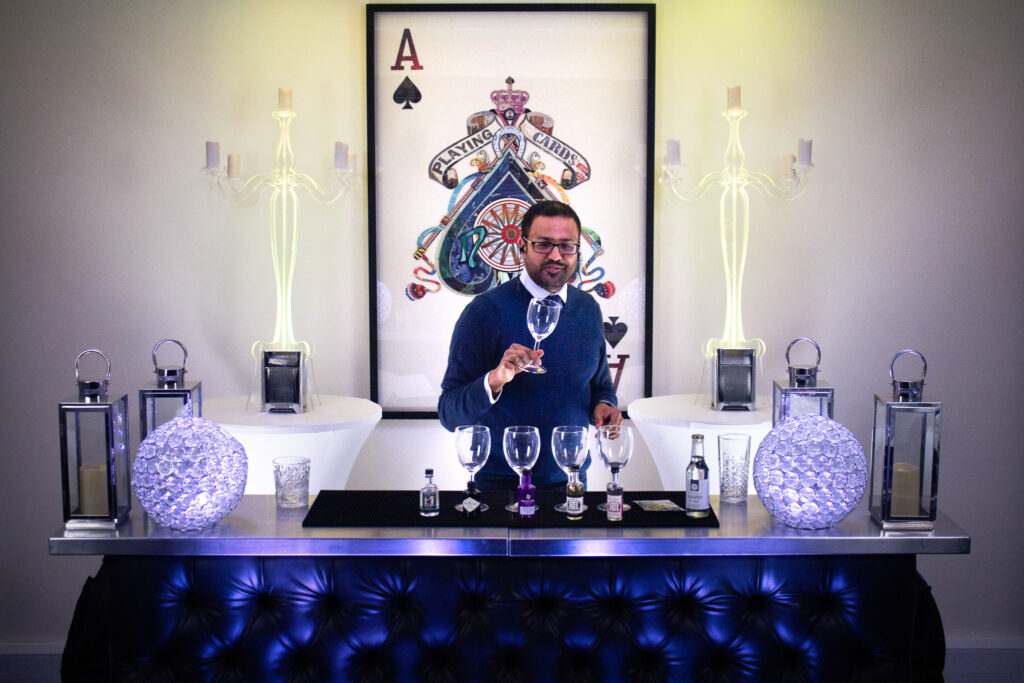 What Do You Need to Know About Arranging Gin Tasting Sessions?
If you're a vir-gin organiser, here's a few things to think about when you're planning gin tasting sessions for your family, friends, colleagues or clients –
How Many People? – Check minimum and maximum numbers with your gin tasting company. As a rule of thumb, gin tasting sessions are usually offered for groups of up to 60 people.
What Do You Get? – You and your guests are be treated to samplings of a variety of different gins, learning the back story of each one as you venture through the sensory journey. In addition, a great host will happily talk you through the best serves and which mixers to use for the perfect pairings.
What Do You Take Away? – These uniquely awe-inspiring sessions are purpose-designed for maximum engagement, fun… and also to be educational, (but not in a schoolie way). So, you'll leave with at least a handful of actionable take aways to start putting in to practice at home.
At Ace Bar Events, our legendary gin tasting sessions are available year-round. So, don't hesitate to get in touch for all things gin.
Source
The data behind Britain's love of gin, Kirsty Cooke, Kantar