Design your own bar with the Ace Bar Events digital mobile bar designer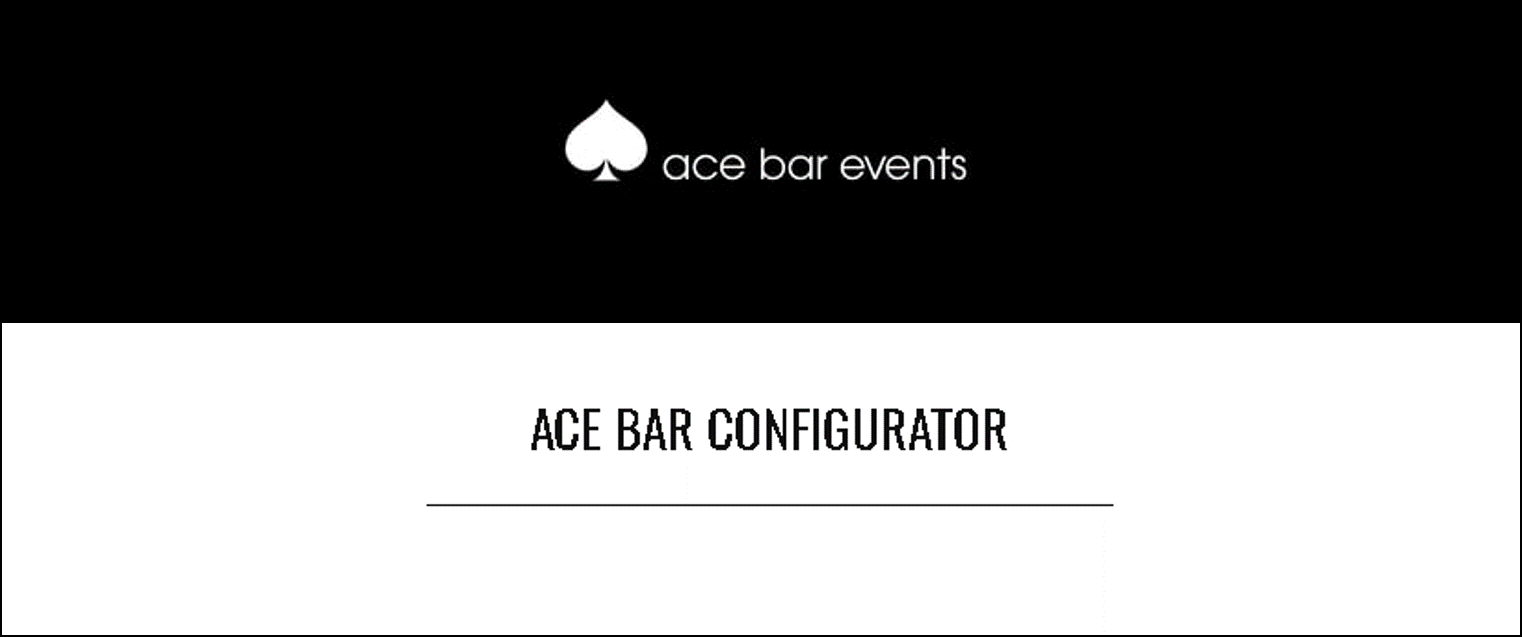 Although it isn't all we do, a great deal of what we do involves our mobile bar hire here at Ace Bar Events; that is why we have put together what we believe may be the first of its kind, the design your own bar tool – the Ace Bar Configurator. It essentially performs the job after which it is named and allows you to mix and match some of our different templates to design and build your own mobile bar. Using the mobile bar designer you can choose everything from what is displayed on the front of the bar, to what is displayed on the backdrop behind the bar (if you want one), and the type of bar top you want.
All of the pieces are interchangeable, which means there are hundreds of different combinations. There are a lot of companies who claim to do mobile bar hire out there but not one yet offers a tool that allows you to mock up an image of what your bar could look like. We are always pushing the boundaries of what is available in the world of mobile bars supporting our vision of delivering the best mobile bar hire service in the UK. It is just not feasible to have photographs of every single type of mobile bar on offer and nobody wants to sit there and scroll through hundreds of different options – so by building the Ace Bar Configurator, we put the ball in your court and give you the opportunity to become the mobile bar designer.
The mobile bar design tool is best used if you are looking for ideas for your mobile bar, if you have something very specific in mind – be it imagery, a brand or anything else then it is best to drop us a line so we can mock up something specific for you. Every area of our mobile bars can be customised, from the length and size of it, to the imagery on the front, bar top or back drop. Of course if you don't have something specific in mind we have hundreds of options to choose from that can fit almost any theme, style or event. Just select the different options one by one and watch your very own digital mobile bar come together.
We will keep updating the Ace Bar Configurator with new designs to make sure to pop back now and then and see what's new. For now, if you are thinking about having a go – here are a few tips to guide you through:
Step 1
Choose from a large range of back panels, or opt for no back panels at all. Simply click on the image or theme you like the look of from the options on the left of your screen and you will see an example of how it would look on the right.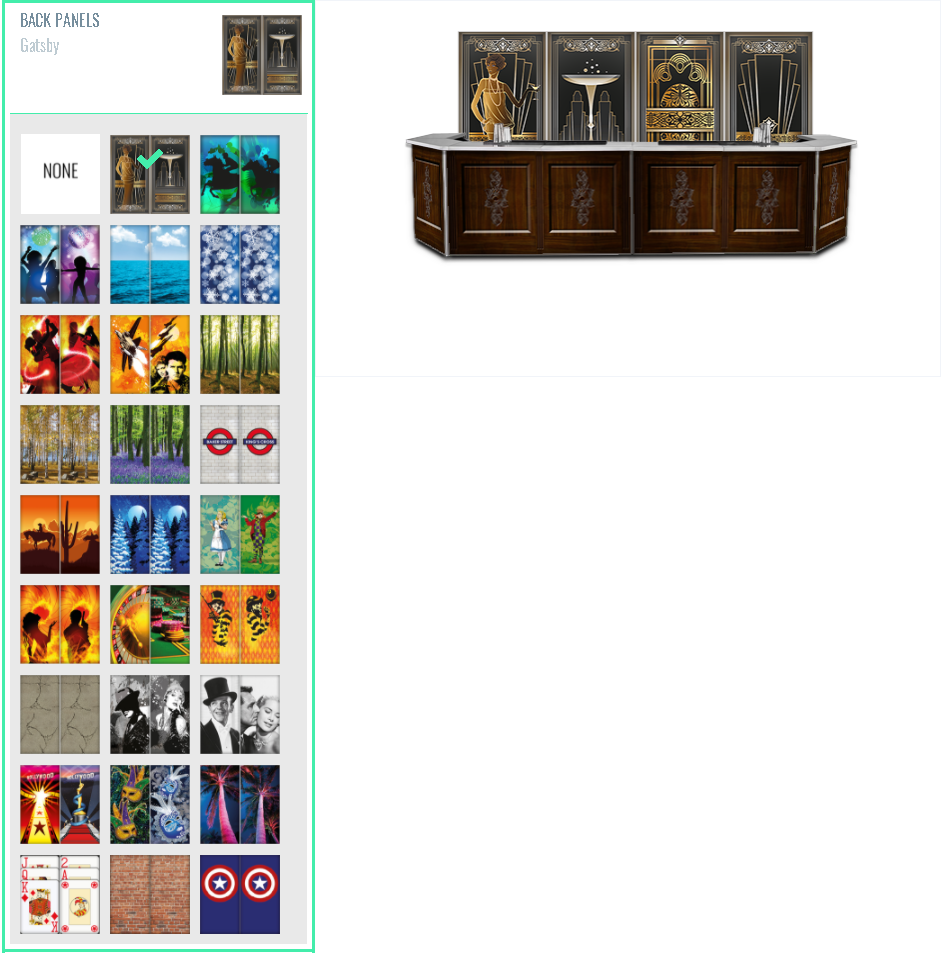 Step 2
Next, select the fascia for the front of your bar. Choose something from the HD range, LED range or Classic range – or perhaps opt an image of your own choosing, in which case you will need to drop us a call or an email. The HD range are high definition printed graphics, so they are 2D in reality although they look 3D in effect with the back lighting also in play. The LED Range is an LED panel displaying a colour, or colours, of your choosing. You can choose for this to change in time with the music, or work on a sequence, or just remain one colour throughout. Finally, the classic range are 3D tactile fascias, choose from a wooden front, leather padded front, or one of three mirrored mobile bar designs.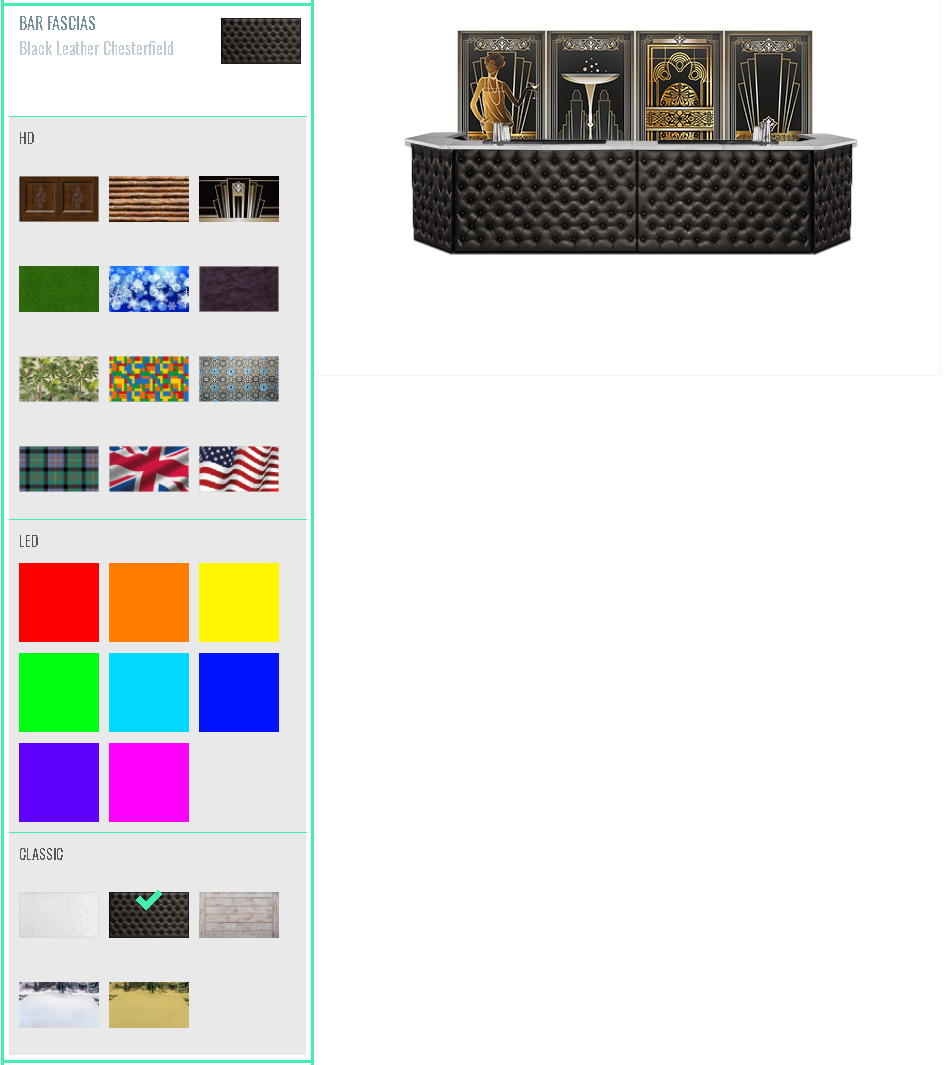 Step 3
In the final step you can choose the type of bar top you would like on your mobile bar. By now you are basically a pro mobile bar designer so you know what to do. Just click the option you want to try and watch it render on the right hand side of screen. Currently we have a wooden or stainless steel bar top to choose from.

If you would like to design your own bar, get a feel for what it would look like or just want to have a go at being a mobile bar designer – then all you need to do is check out our Ace Bar Configurator page.