Discover our Corporate day bar hire for Samsung in Chertsey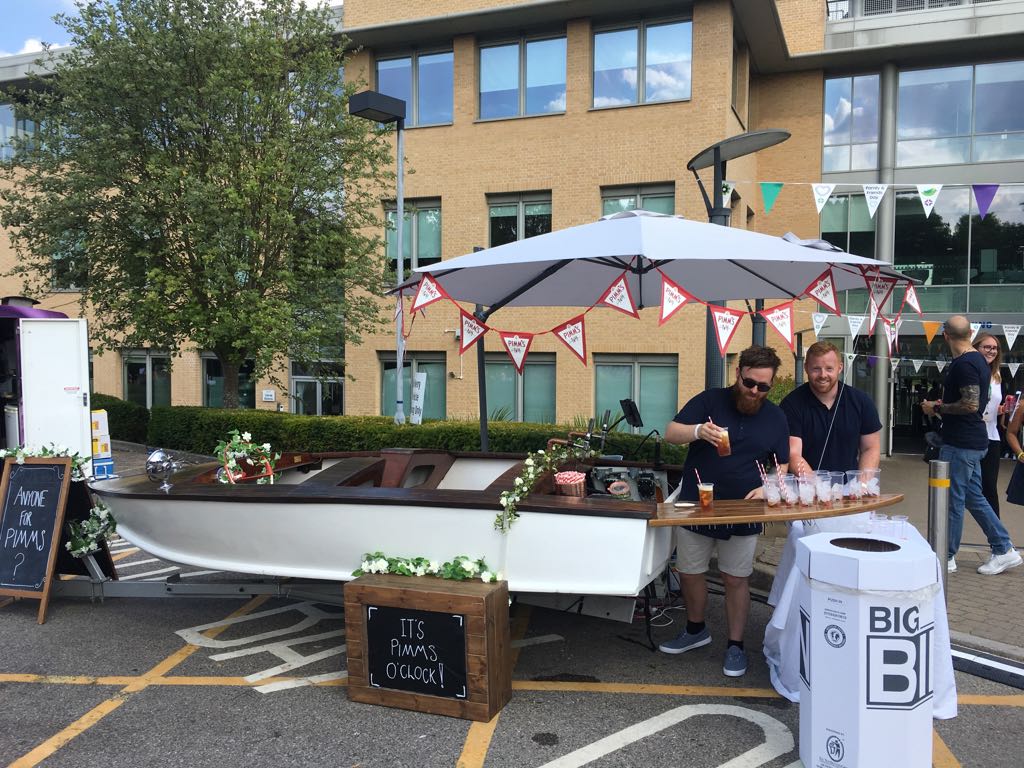 It was quite the eventful day at the Samsung family and friends fun day at their offices in Chertsey, featuring our corporate bar support service and corporate day bar hire. The Samsung family and friends fun day is put on for the local employees of the Chertsey office, as well as their family and friends. Featuring lots of areas to get food and drinks, relax and talk, or have fun and dance – there were around 600 guests in attendance so we had more than one of our mobile bars in use.
In total we provided some of our professional mixologists and flair bartenders to man a total of four bars, including our craft wood mobile bar from the Classic Range, the log effect mobile bar from the HD range, our fantastic Gin Cart as well as a Boat Bar! The Boat Bar was brilliant and did a great job helping keep the guests remain afloat as you can see above!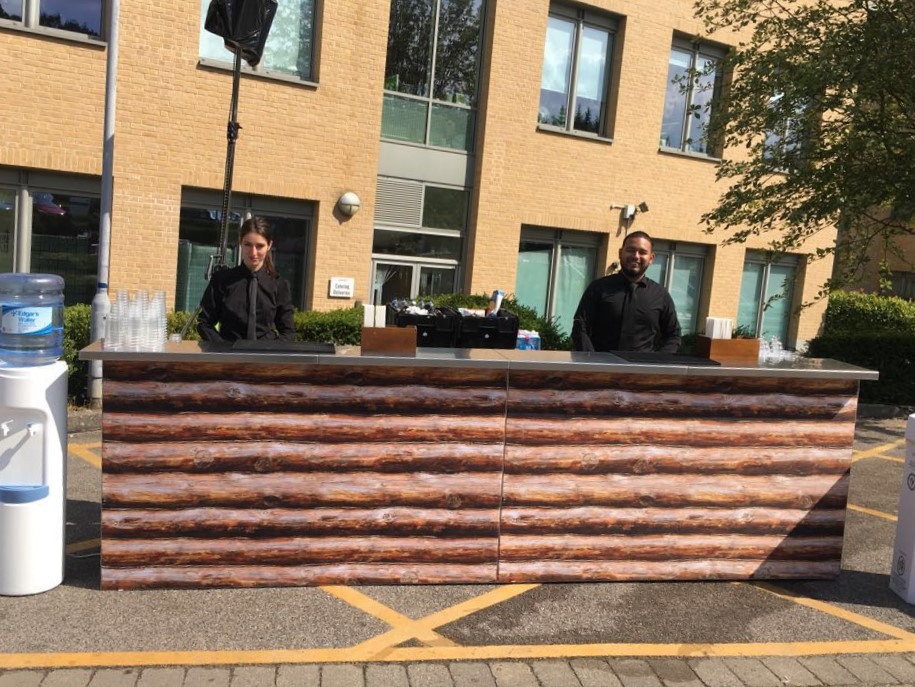 The event for Samsung took advantage of our corporate day bar hire, which features an all day service, as well as all the extras including all the drinks, glassware, staff, and mobile bars/carts! Each of the mobile bars involved in our corporate day bar hire provided something different for the guests – as a family fun day it wasn't full steam ahead on the alcohol. In fact our craft wood mobile bar exclusively served a range of mocktails, perfect for the children.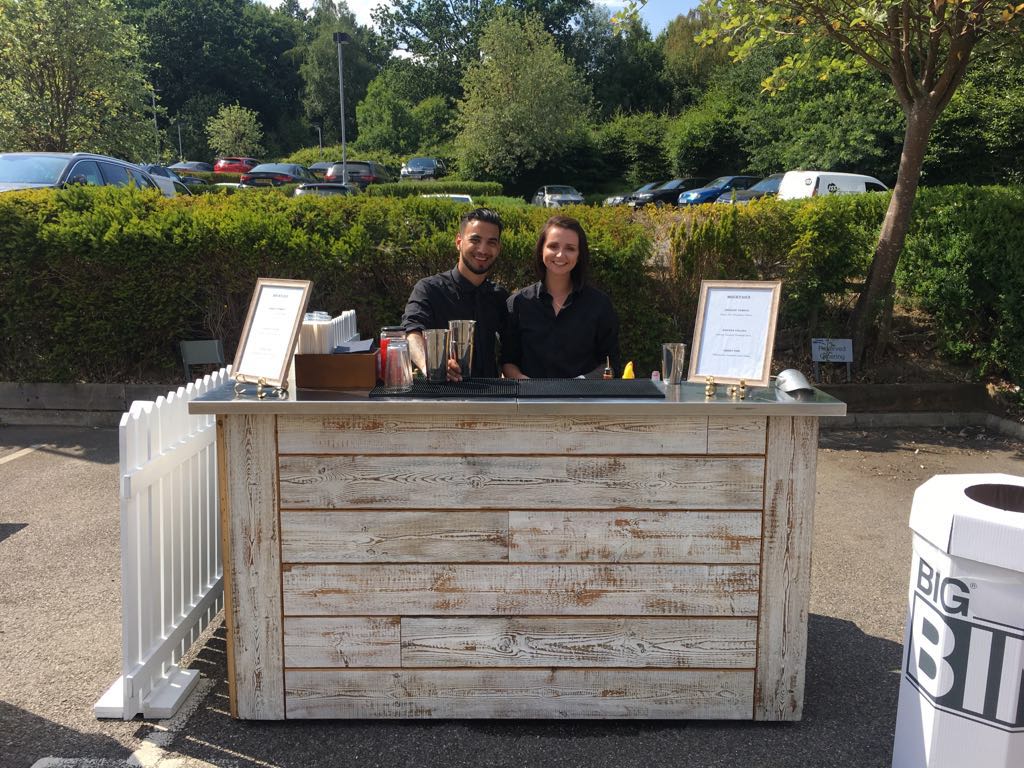 Our 4 meter log effect mobile bar, which features an LED backlit fascia, served all the 'nice and easy' drinks – such as your bottles of beer, wine and soft drinks. Whereas the Boat Bar served a the British summertime favourite, Pimms. Last but not least was our Gin Cart, which is a standalone feature in itself often servicing wedding receptions and birthday parties. In total the family fun day bar hire involved 4 mobile bars, 8 professional bartenders, a host of supporting bar staff,  and all stock and glassware!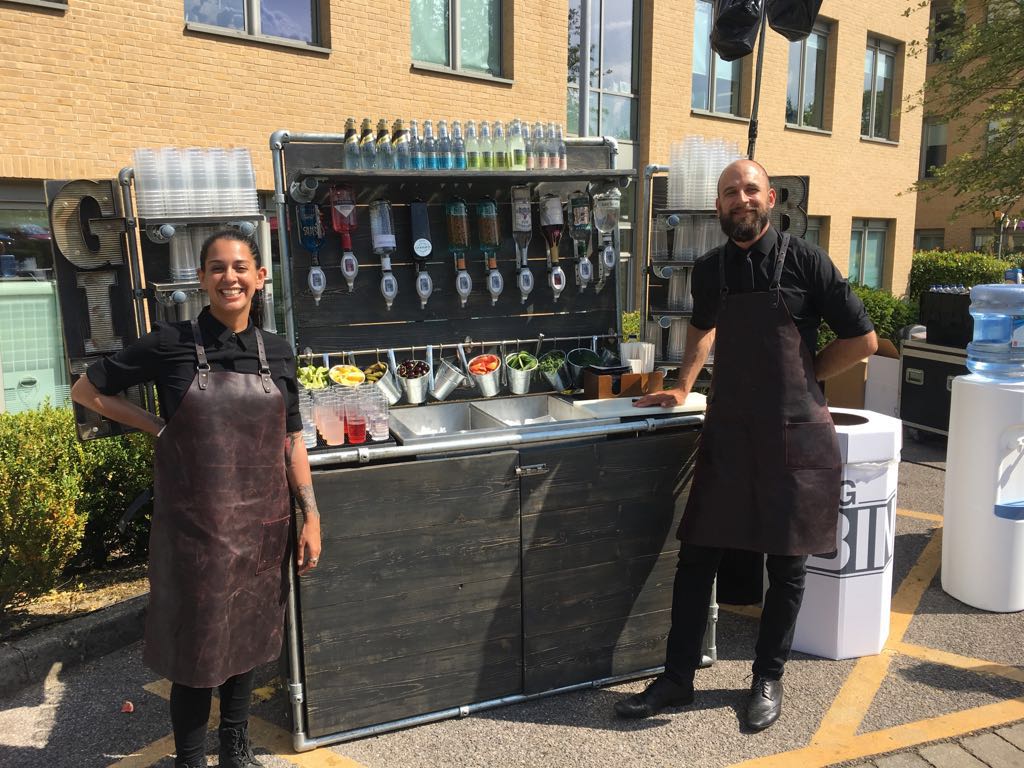 Our craft Gin Cart is always a big hit. We load it full of 10 different types of gin from around the world – as well as a wide range of tonic waters to choose from and a whole host of fresh garnishes. As you can see in the above image we had everything from fresh lemons, limes, cucumber, rosemary and more on offer for the guests. With a lot of experience in supporting all manner of corporate days, from family fun days, to team building events and award ceremonies – we can provide almost any style or number of mobile bars, bartending staff and everything in between.
If you are interested in family fun day bar hire, our corporate bar support service, bartender hire or anything else – then please do not hesitate to get in touch.