Christmas cocktail bar hire enquiries always pick up at pace after the August bank holiday.
After all, it won't be long till we start seeing the shop and supermarket shelves starting to burst like glittering party poppers with festive goodies.
It's the same for work's Christmas party organisers nationwide. When we start thinking in terms of autumn rather than summer, you start signing supplier contracts and ticking off your wish lists for the venue, the menu, the Christmas cocktail bar hire, the entertainment, the décor and all the finishing touches that put dazzle in do's.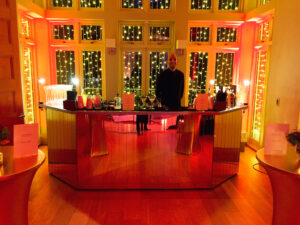 Post-pandemic Christmas parties and Christmas cocktail bar hire were always going to be an unknown quantity in 2021 until we got in to the thick of it.
As we move past the August bank holiday watershed, here's an indication about where the company Christmas shindigs of 2021 are at, based on what our corporate party organisers are telling us –
Smaller Office Parties – Departments, teams and regional offices are requesting Christmas cocktail bar hire for intimate parties where they'll feel comfortable with their colleagues rather than battling through crowds of high-spirited revellers. Christmas cocktail bar hire to suit your venue and your theme is the perfect treat to make a select gathering feel extra special.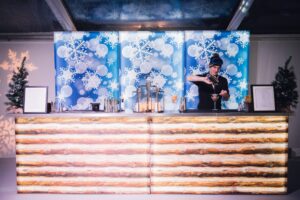 Virtual Soirees – Larger single-site businesses and also businesses with multiple branches across the country are opting to stay online to get the wider team together. Rather than full on Christmas cocktail bar hire, they're looking to give their people a great night in.
'Shake and serve' kits delivered to everybody's doors were gigantically popular last year when in-person gatherings were off the cards. In fact, they were so successful, they've stuck, and become a new way of bringing people who are apart together.
At Ace Bar Events, we're no longer just the go-to Christmas cocktail bar hire experts for businesses across the UK. In addition, we're the Christmas cocktail box specialist famous for putting the va-va-voom in your virtual festivities.