Stylishly bespoke cocktail bars for weddings are perennially popular. But, they're even more exceptional for magical matrimonies in the sun, and when the sun goes down.
You can theme your cocktail bar and the drinks it serves to complement your wedding colours, your vibe and your setting, whether you're having a marquee at home or you've hired a venue.
Imagine bespoking your favourite tipples if you really want to go all-in. A Rosa Rhu Sling  becomes Naomi's Nuptials for the day, in honour of the Bride. And, for the groom, how about a Conquistador  served to your gorgeous guests as Ian's I Do?
The possibilities with cocktail bars for weddings are endless. You can let your imagination loose in the most creative and fun ways.
Start at the beginning with the practicalities though, before you start adding all the wedding bells and whistles.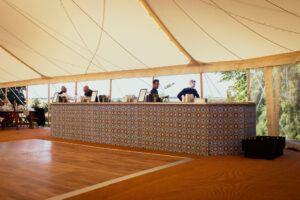 Think Drinks: What Should Cocktail Bars for Weddings Serve Up? 
The answer to the question about what cocktail bars for weddings should serve up is simple. Your day. Your call.
Get the ball rolling by listing every point during your big day that involves drinks. This gives you with a solid plan of action to talk to suppliers of cocktail bars for weddings about.
What lovely liquid refreshments are you imagining being served up for –
Welcome Drinks – They've witnessed your nuptials, the photographs, and perhaps also travelled from one location to another if you're getting married and celebrating in different places. As a result, your guests might be pretty thirsty by the time they're offered a welcome drink. How about greeting them with a deliciously summery and visually stunning premium theatre cocktail ? It certainly makes a change from a wine or a bubbly like you get at many other weddings.
Wedding Breakfast – Many couples keep things simple, with wines, soft drinks and sometimes beer buckets on the tables with the meal. But every wedding is as different as every couple.
Toast – The after-dinner salutations usually call for more bubbles. If you want to shake things up a bit, you might prefer a Prosecco-based cocktail. Or it might be a nice idea to serve your signature cocktails for this pivotal drink if you're not having a party afterwards.
Evening Do – Whether you offer a credit or cash bar, or a bit of both, is a budget-driven decision. Offering every guest one of your signature cocktails as their first drink is an impressive compromise for looking generous whilst keeping your purse strings under control.
Hot Tip: Easy Weddings recommend – "One other lovely idea for an extra touch of sophistication is to create a series of mocktails, which look beautiful and feel indulgent but contain no alcohol and therefore are safe for everyone to down."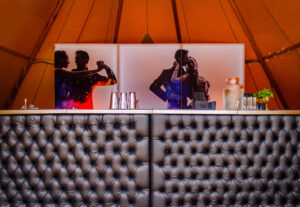 At Ace Bar Events, we're renowned countrywide for stunning customised drinks packages and cocktail bars for weddings. Get in touch for a chat about what you've got in mind for your momentous day. We've got the expertise to bring your wedding day dreams to life, no matter how traditional or eccentric they are.
Source
A guide to wedding day drinks, Easy Weddings