Summer cocktail bars at festivals, events and parties at home really need to be serving up Margarita this year *Margarita the cocktail, not Margherita the pizza*
National Margarita Day on 22nd February is as good a time as any to get in the swing of things early. Sample the taste of summer, even though spring has only just sprung.
Margarita is pure joy in a glass, the perfect thirst-quenching tipple for hot summer days and nights fiesta-ing with friends.
And it's not just summer cocktail bars in the UK that will be shaking Margaritas for your supping delectation.
Decanter, the world's leading wine media brand, explain – "The Margarita has emerged as the most popular cocktail in the world, according to research conducted for World Cocktail Day." (in 2021)
"Margaritas topped the… list in 30 countries, including the UK, USA, Canada and Australia, as well as France, Spain and Germany, Japan and Vietnam."
As you can imagine, the global popularity of the magnificent Margarita has spawned some sensational variations to ignite summer cocktail bars this festival season.
Top Margarita Picks for Sizzling Summer Cocktail Bars
Leading edge cocktail bar hire services such as Ace Bar Events are having a field day with next level Margarita recipes. Here's a few prime examples that represent the taste of summer fun in the sun in 2022 –
*Mango Margarita – A flavoursome twist on the classic Margarita, with El Jimador Blanco tequila, triple sec, mango puree, lime juice and a dusting of sugar.
**The Conquistador – A uniquely stunning Margarita-inspired drink. It combines artisan-crafted, premium coriander-infused silver tequila with crushed pineapple, jalapeño, agave, fresh zesty lime and smoky-spiced salt.
***Margarita Mocktail – An amazing alternative to a standard soft drink for the growing ranks of non-drinkers who 't'kill'ya' is off bounds for. It's also a tasty tipple for for taking it easy and pacing yourself before hitting an alcoholic version later.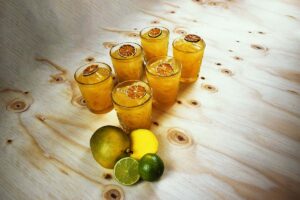 At Ace Bar Events, we can't wait to help with your summer cocktail bars of all shapes, sizes and styles, plus the Margaritas to go behind them.
Sources
World Cocktail Day: Margarita tops list of the world's favourite cocktails, Julie Sheppard, Decanter