Our dry bar hire London in action for the WFA Roadhouse Grand Finals!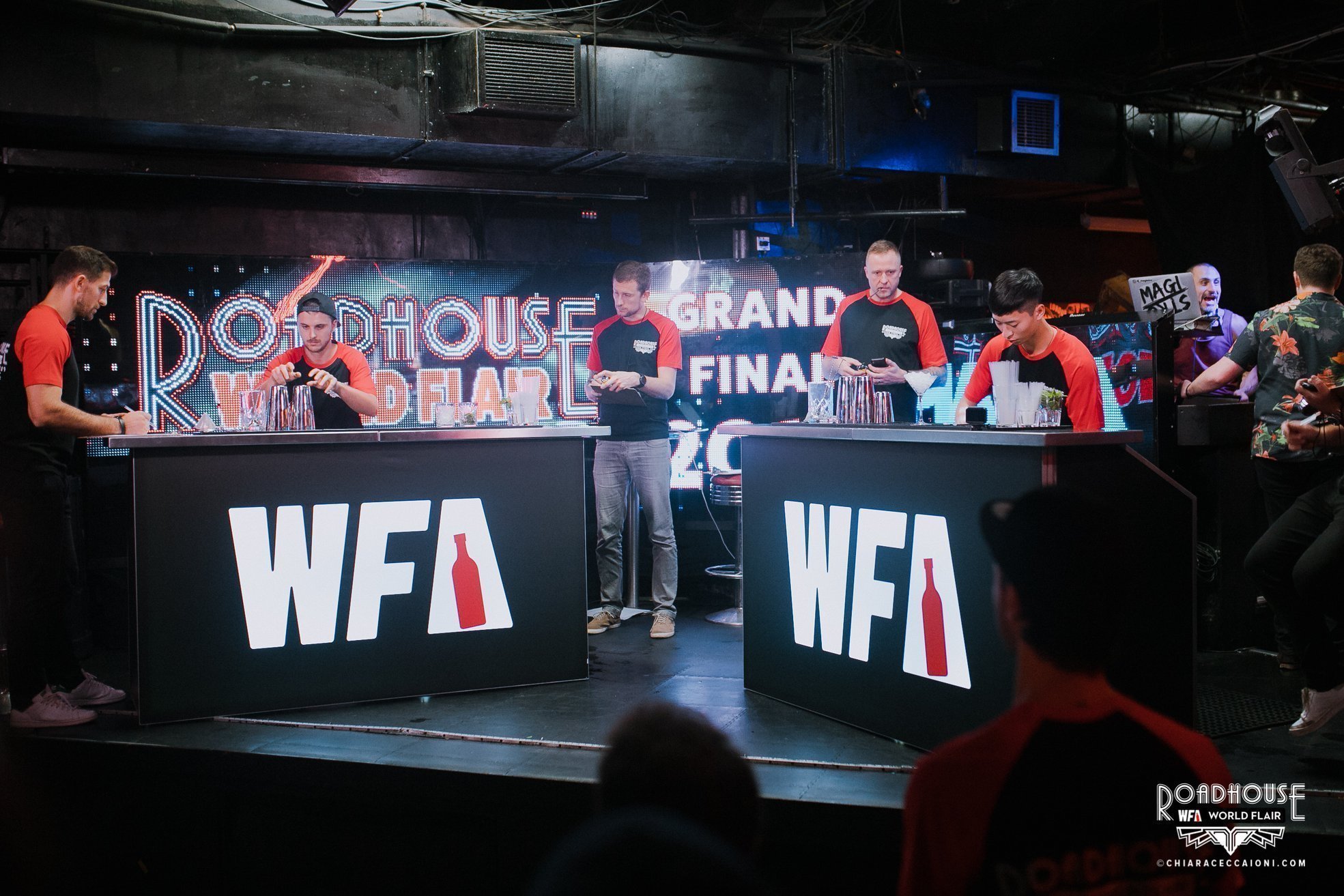 We were very proud to be the sponsors of the WFA Roadhouse Grand Finals recently, put together by our dry bar hire London team. Central London mobile bar hire can be challenging, with some of the world's oldest buildings, event venues can often have narrow doorways or tight stairwells. We have many years of experience operating in London, however, and each of our mobile bars used in our Central London mobile bar hire can be fully broken down and packed away into flight cases. This means traversing even the windiest of staircases is not a problem.
The World Flair Association Roadhouse Grand Finals is the oldest and one of the most revered bartending competitions in the world. It takes place every year in Covent Garden, London, at the iconic Roadhouse bar. Over 30 bartenders from around the world fly in to battle it out in speed pouring, accuracy pouring, and exhibition flair bartending. The winner of the Grand Finals takes home £6000 in prize money, a coveted Roadhouse trophy and the title of World Champion. As a result, it has become the place to see the world's best flair bartending routines.
We were there supporting the event as a sponsor, with two of our mobile bars from our dry bar hire London team but also to support one of our own bartenders who was competing. We were very proud to see one of our flair bartenders make it to the finals of this prestigious competition. We continue to offer the worlds best flair bartenders for hire here at Ace Bar Events, as well as an array of mixologists, bar-backs and more. Ensuring the bar (or bars!) at your event run as smoothly as if they had been established for 25 years.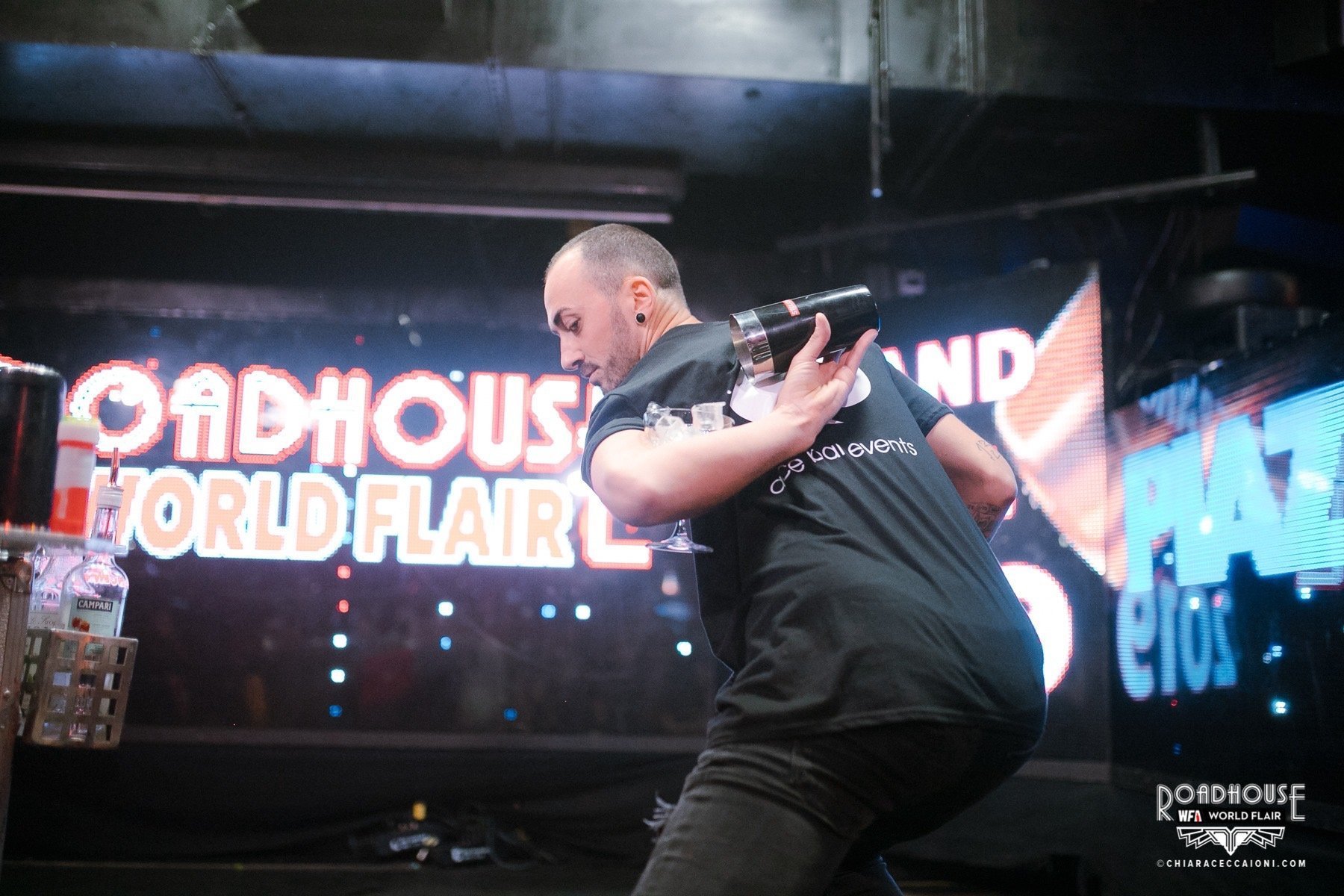 We used two of our two-meter mobile bars from our Central London mobile bar hire for the Roadhouse stage, these were used for both the speed pour round and the accuracy pour round – two vital qualifying rounds for the competing bartenders. As a result, the bars are required to be kitted out as you would expect any professional bar to be. This means cocktail tools, barware, insulated ice wells, speed rails for bottles, and appropriate shelving and storage. These features come as standard on any of our mobile bar hires, whether it is dry bar hire or something more. We can also fit the mobile bars out with a fully contained sink and tap system too, as well as integrated under-counter fridges!
These mobile bars came from our HD Range, which makes use of high definition graphics and LED backlighting to create a visual spectacle that draws the eye in almost any event situation. It was the WFA brand that was to be the focus of the fascia of the mobile bars for this event, so we made use of our black-out fascia, which is perfect for branded mobile bars. The blackout material shields all the light from the LED lights inbuilt into the fascia of the mobile bar, directing it through the brand logo that we manufacture from a transparent material. Your brand will already stand out on one of our mobile bars and with our blackout method, you can guarantee it won't go unnoticed.
Are you interested in our dry bar hire London, Central London mobile bar hire, blackout branded bar, bartender hire – or anything else? Then you can get in contact here.
—