Wedding bar hire businesses are swept off their feet with enquiries and bookings at this time of year. And, with plans in full swing for weddings of all shapes and sizes in every corner of the country, it's no small coincidence that National Wedding Planning Day is on 1st March.
Wedding planning is a colossal undertaking. Black Diamond Weddings explained to the National Wedding Show how couples have typically, "…looked at every beautiful wedding blog, fantasied about your perfect wedding day and even dreamt how amazing your cake will taste. Then reality sets in and it's time to sit down and talk with your fiancé about budgets, spreadsheets, guests lists, contracts, suppliers, insurance and all the seemingly boring grown up stuff…"
So, many couples harness the services of professional wedding planners. They're finely attuned to the minutiae that makes matrimonial celebrations memorable for all the right reasons.
The bar and the drinks are an imposing part of many magnificent weddings. To this end, it's little wonder that wedding planers and great wedding bar hire specialists go together like a horse and carriage.

Leading Wedding Bar Hire Services Make Perfect Planning Partners 
Whatever the wedding, you're well-served with a dynamic and premium wedding bar hire supplier by your side.
The bride and groom are relying on you to remember what they forget. In turn, you can rely on a leading wedding bar hire provider to be your safety net. They'll take you through every aspect of their services, such as –
Bar Customisation  – Leading-edge services provide uniquely bespoke mobile wedding bars in a spectrum of shapes, sizes and styles to suit every couple's theme and every venue's spec.
Logistics – The best providers in the business will work in partnership with you on all the less glamourous logistical aspects of wedding bar hire, like set-up and de-rig, transit, staff, shelving and sinks. More time for you to get on with ensuring the happy couple stay that way.
Wedding Drink Packages  – Truly wow wedding guests with delightful drinks that go far beyond standard drinks packages, like aesthetically stunning, hand-crafted cocktails and even branded ice cubes.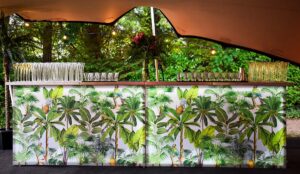 At Ace Bar Events, our attention to detail is one of the many things that make us stand out from the other less premium bar services. As a result, we're the wedding bar hire partner of choice of hundreds of highly experienced and reputable wedding planners.
Might you be the next one to join them? Get in touch for a chat.
Source
10 Reasons To Hire A Wedding Planner, Black Diamond Weddings, The National Wedding Show