Working with our friends at Table Art UK, we put together a dry mobile bar as part of our dry bar hire service, for Tesco's celebration of 100 years since they first began. This dry bar rental took place at the exquisite JW Marriott Grosvenor House in London and it was definitely an event to remember for the 200 or so guests, with a 1920s themed bar, a sit-down meal and a live performance from UK superstars Little Mix!
Our 1920s or Great Gatsby themed bar has been a huge favourite over the years, and we hope you can see why! What's not to love about that Art Deco style. This event was a little different, however. We put together our 1920s style bar with a subtle customisation, can you see it? Making use of our freestanding HD back-panels, we added in 'Jacks Bar' to recognise the man who started Tesco over 100 years ago.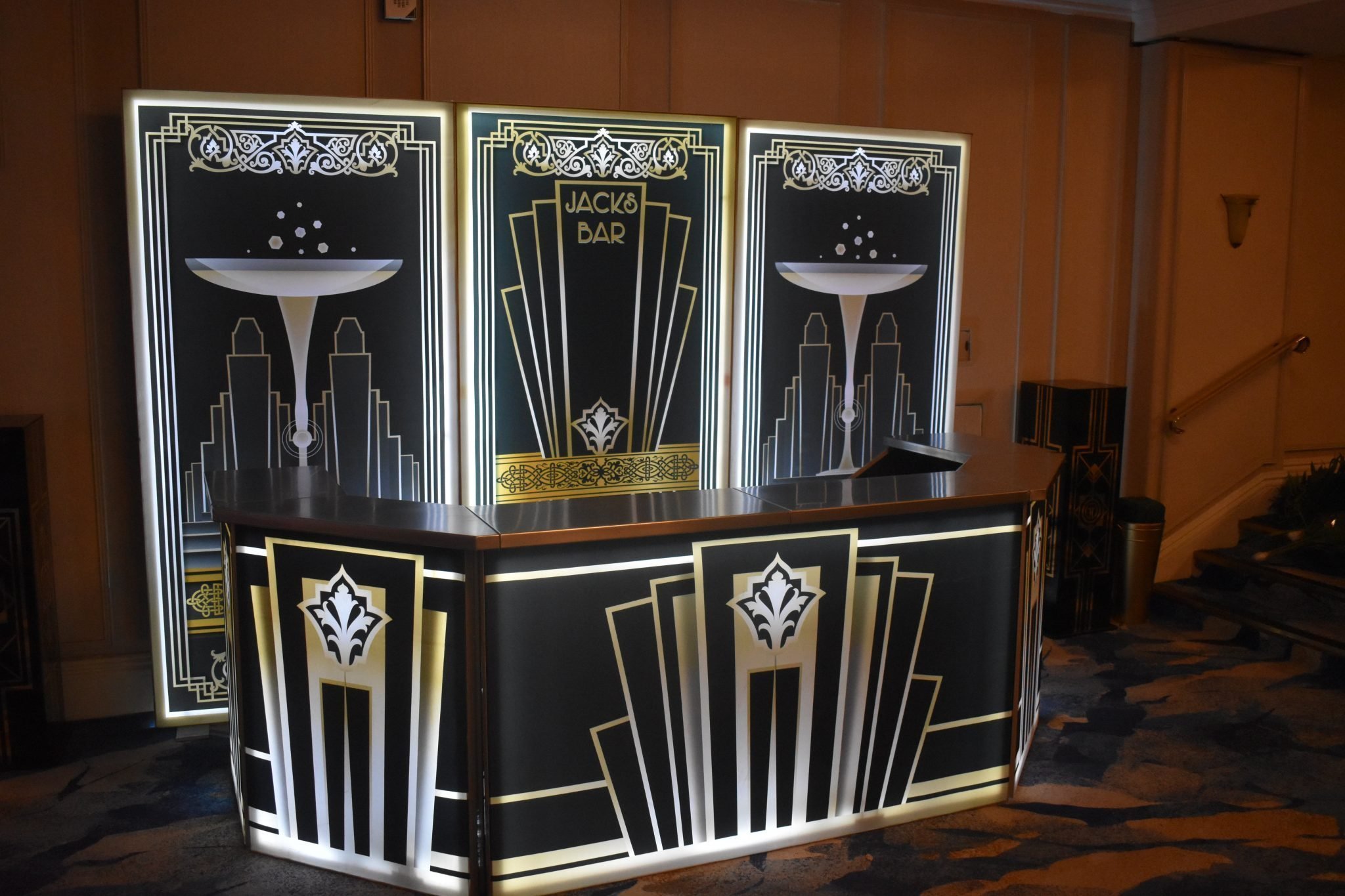 Our HD back-panels can be a fantastic addition, they are also particularly versatile. You can have them dotted around the venue of your event, with different imagery or adverts on them as you see fit. Or, such as in this case, you can have them to add a bit more drama and aesthetic to the mobile bar. They even make great additions to exhibition stands!
The event was for the directors, suppliers and guests of Tesco and although we weren't serving from our mobile bar this time around, it saw plenty of action as the sit-down dinner came to an end and Little Mix took to the stage. Mobile bar hire and bartender hire is where we specialise, so whether you need dry bar rental, our full bar service including a choice of professional flair bartenders and mixologists, or a custom cocktail menu.
What can you expect with Dry Bar Hire?
All of our bar styles and types are available for dry bar hire, you can get an idea of our more popular versions by having a play around with our Ace Bar Configurator, an online mobile bar design tool! Each of our mobile bars can be fully broken down, which means that we can generally get our bars into the tightest of spaces or through the narrowest of doorways – perfect if you have an older venue in mind.
You can expect our team to prep the area before we install our mobile bar, as well as performing a full clean up afterwards. This way you don't have to worry about floors or carpets being damaged. Every one of our mobile bars comes fully kitted out to a professional standard. You can expect fully plumbed hot and cold taps, insulated ice wells, speed rails, shelving and more. We even have integrated under-counter fridges if need be!
If you are interested in our dry mobile bar hire, dry bar rental, bartender hire, cocktail creations or anything else – then you can get in contact here.