A Pharmaceutical themed mobile bar for NAPP Pharmaceuticals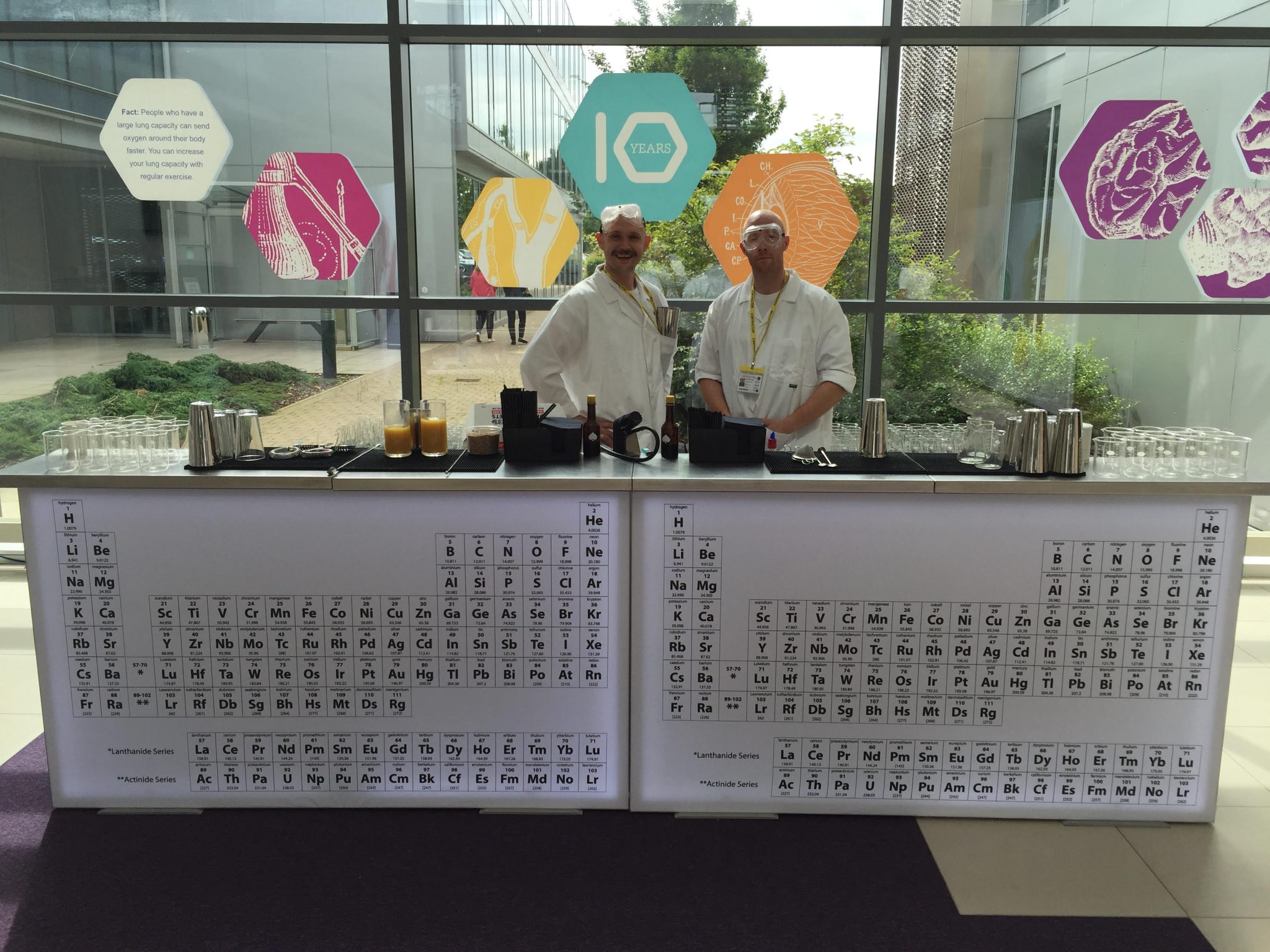 When it comes to themes, we think it is important to go all out – with a focus on accuracy, but also from a light hearted and entertaining perspective. This is certainly what we aimed to achieve with our pharmaceutical theme, including a pharmaceutical themed mobile bar, 'scientific' themed staff, 'molecular' drinks, and more. Naturally, the pharmaceutical themed mobile bar, or science themed mobile bar, was created for a pharmaceutical company and corporate client of Ace Bar Events, NAPP Pharmaceuticals.
Our in house team here at Ace Bar Events are able to imagine and implement almost any imagery or design on to the front of our many mobile bars. Furthermore, opting for one of the LED mobile bars can further enhance your chosen imagery or brand – our LED bars also have full DMX capability as well as sound coordination. NAPP Pharmaceuticals, in this case, opted for a mock up of the periodic table on the front of one of our LED pharmaceutical themed mobile bars – in keeping with the overall scientific theme.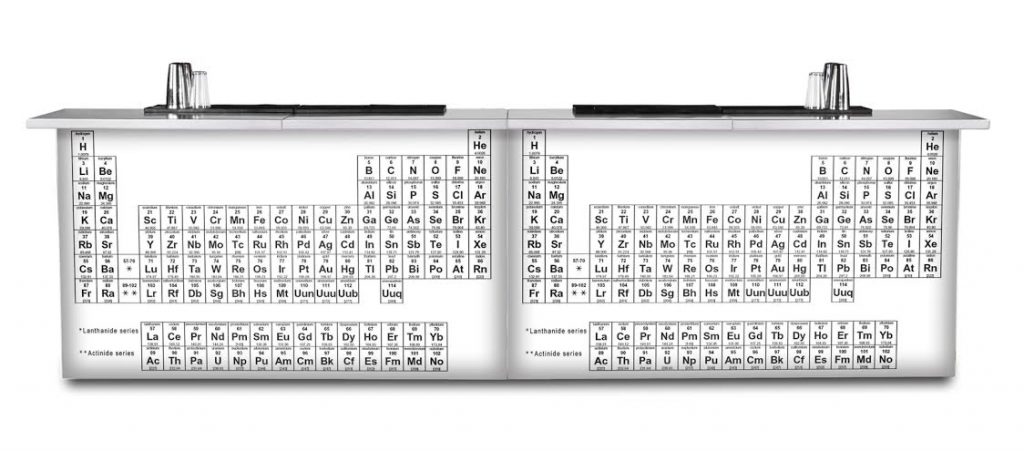 The event, which took place in their offices at the Cambridge Science Park, was for roughly 100 guests. As a stakeholder event, it brought together many different parties from employees and shareholders, to the local community and local schools so it was important to create a relaxed and inclusive atmosphere. The entertaining and interesting theme – alongside a wee bit of molecular mixology –  really helped get the conversation flowing between all guests. We were on hand to not only provide two of our 4 metre led mobile bars for this event, but also mixologists, all associated drinks and alcohol, glassware, and full bar support.
The glassware especially chosen for the event was in keeping with the theme, the range of molecular cocktails we had on offer were all served in conical flasks or 400ml beakers. A particular favourite with the guests and the client was 15ml plastic syringe, filled with blue curacao, which came as part of the Blue Injection Mule cocktail. It was very important to maintain the theme throughout the event, no more was this the case than with the 'molecular cocktails', especially created for NAPP Pharmaceuticals.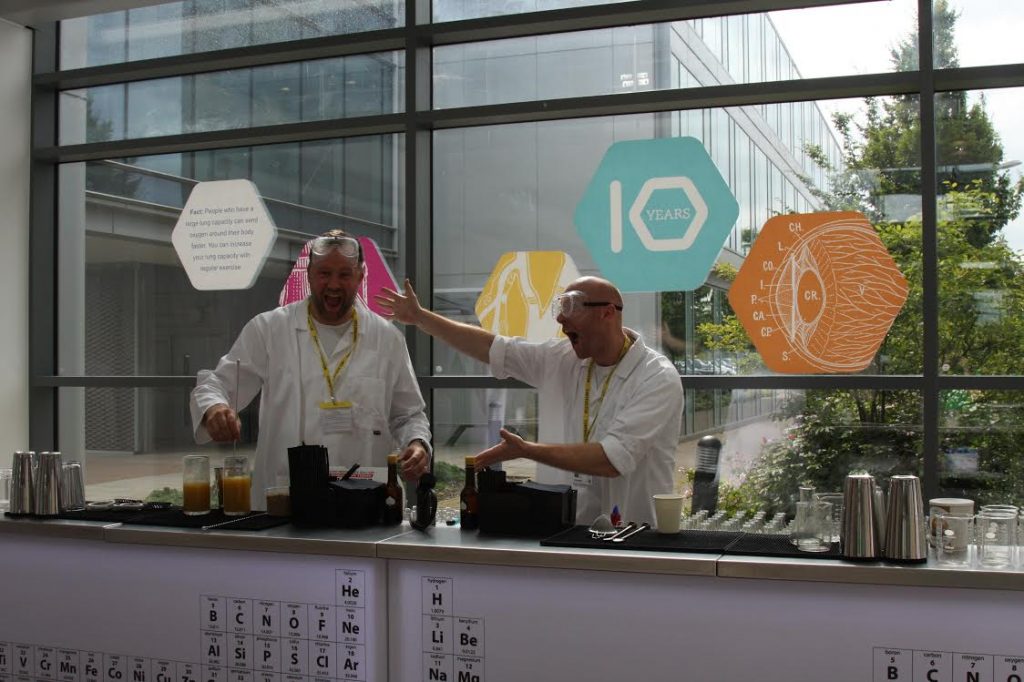 We call it Molecular Mixology.  With a combination of dry ice, themed glassware, and a touch of creativity it really helped bring out the cool and entertaining side of the event – which was in keeping with the relaxed and entertaining atmosphere that the client set out in the original brief. You can check out some of these cocktails below:
The Molecular Mai Tai
– Dark Rum
– ODK Falernum Syrup
– Triple Sec
– Pineapple Juice,
– Orange Juice
– Fresh Lime Juice
– Served in a conical flask with dry ice, which acts as a catalyst for all the fruity flavours involved, and garnished with an apple wood smoke – which is essentially where we use apple wood chips and a smoking gun to infuse the cocktail with a smokey apple scent, balancing well with the dark rum.
The Golden Bramble
– Gin
– Fresh lemon juice
– Sugar
– Blackberry liquor
– Served in a 400ml beaker and garnished with an edible gold lustre, which creates a golden metallic crust.
The Blue Injection Mule
– Vodka
– Angostura Bitters
– Ginger beer
– Fresh lime juice
– Served in a 400ml beaker and garnished with a 15ml plastic syringe filled with blue curaçao.